Dir. Chris Morris, UK, 2009, 94 minutes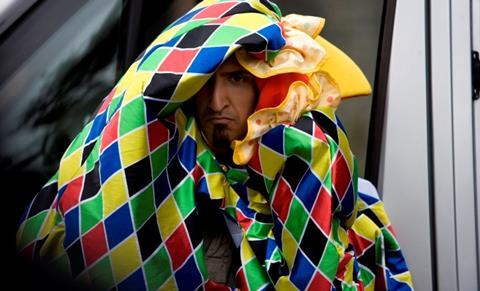 Chris Morris goes for extreme laughs and perilous political incorrectness in Four Lions, a farce about a gang of British Islamic terrorists who can't bomb straight. Daring and potentially offensive, this hilarious satire may be too biting for its own good.
Four Lions treads on the limits of what distributors and broadcasters might tolerate. Commercial potential should be good in the UK, where Morris is better-known, while a US release may be limited to urban arthouses and cable comedy channels for young audiences – if lawsuits from opponents don't shelve the film first. Media attention might help build a public appetite for Four Lions, however, as it seems certain to be labeled anti-Islamic and irresponsible toward the terror threat in the UK.
The "Four Lions" are four would-be jihadists who band together in London to redress mistreatment of Muslims as they plan a decisive bombing to send the world a message. As with most plans by amateurs, these terror gambits go wrong at every turn, culminating in some major blunders.
The farce's madcap pace has much in common with classic Three Stooges episodes, and with Armando Iannucci's political satire, In the Loop, yet Four Lions focuses more on violence, using the rebels' hare-brained bombing plans for its gags. The film's scenes of destruction are some of its funniest – and potentially most controversial.
Proving that terrorists are people too, the cast juggles the testy mix of anger, credulity, dogmatism and incompetence that make failure a foregone conclusion. These wild scenes would be safely and preposterously unimaginable, if recent troubling events in the news did not resemble the satire's fiction.
To sign up for Screen's weekly Reviews Newsletter with all the week's new releases, international openings and full festival reviews delivered free to your mailbox every Friday, please click HERE
Production Companies
Film4
Wild Bunch
Optimum Releasing
Warp Films
International Sales
Wild Bunch
+33 6 20 36 77 72
Producers
Mark Herbert
Derrin Schlesinger
Screenplay
Chris Morris
Sam Bain
Jesse Armstrong
Simon Blackwell (additional writing)
Cinematography
Lol Crawley
Production design
Dick Lunn
Editor
Billy Sneddon
Main cast
Riz Ahmed
Arsher Ali
Nigel Lindsay
Kayvan Novak
Adeel Akhtar
Benedict Cumberbatch
Julia Davis
Craig Parkinson