Creole-language debut from Haiti sparkles at Cannes sidebar Un Certain Regard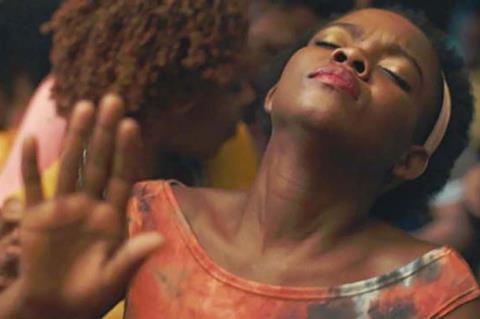 Dirs/scr: Gessica Geneus. Haiti/France/Benin. 2021. 94 mins
When your homeland slides into chaos do you stay or do you flee? That is the dilemma facing the title character in Gessica Geneus' Creole-language debut feature Freda. The story of a young woman's uncertain future builds into a subtle celebration of resilience underpinned by a vivid evocation of life in Haiti. Further festival interest should follow for a film that marks out Geneus as a talent to watch.
he odds stacked against Freda and the problems facing Haiti make her defiance all the more engaging.
Actress, singer and director Geneus weaves aspects of her own life and experience into a story set in the Haiti of 2018. Audiences will know that things have only deteriorated since then, with tensions further heightened after the assassination of the country's president on July 7, 2021. This gives it an extra resonance as we watch anthropology student Freda (Bastien) working in the family grocery store in Port-au-Prince.
Individually and collectively, her family reflect the challenges of modern Haiti. Brother Moses (Cantave Kerven) expects to be waited upon, squanders money on new trainers and is never around when there is work to be done. Her young sister Esther (Francois) whitens her skin, straightens her hair and flashes her eyes at any man who might be a prize catch. Pragmatic mother Jeannette (Remy) fusses over them all, offering tough love. Bastien's spirited performance makes Freda shine with her determination to challenge the daily realities of a country at the mercy of corrupt politicians, gangs and a colonialist legacy that seeks to erase language, culture and identity.
In the face of escalating violence, Freda's artist boyfriend Yeshua (Jean) wants to leave and start a new life in the Dominican Republic. He wants Freda to join him.
Freda is a film of contrasts and flashpoints. Scenes in the family store, spilling on to a sidewalk of brightly painted house fronts, feel theatrical, yet others, such as those the streets of Port-au-Prince, have a documentary-like urgency. The fervour of a Christian service brushes up against the growing agitation of ritual dances during the Day Of The Dead commemorations. Classroom conversations between Freda and her peers have the air of Ken Loach's Land And Freedom (1995) as they debate politics, religion and the heavy shadows of colonial rule. They argue over the merits of peaceful protest, revolution and direct action. "We're not seeking politics, sir," they reply to a censorious lecturer. "It's seeking us."
Cinematographer Karine Aulnette places the viewer right in the heart of Port-au-Prince. She appears to have filmed in the middle of protests as people run through the streets demanding an end to corruption. We hear gunfire, see the rush to reach safety and gather a sense of Port-au-Prince as a lawless frontier.
The depiction of Port-au-Prince embellishes the human story rather than overpowers it. We realise the world that Freda has to negotiate and the way that every action has consequences. It is so tempting to leave and so difficult to stay and fight for something better. There is a complex depiction of the relationship between the personal and the political that is reminiscent of the films of Marta Meszaros.
A large part of the bigger picture is an understanding of the oppression faced by women in a country where beauty is a prize for a powerful man, education is dismissed as a pointless luxury and change will only come if the women themselves break with tradition and defy expectations. The odds stacked against Freda and the problems facing Haiti make her defiance all the more engaging.
Production companies: SaNoSi, Ayizam Productions, Merveilles Productions
International sales: Nour Films contact@nourfilms.com
Producers: Jean-Marie Gigon, Gessica Geneus, Faissol Gnonlonfin
Cinematography: Karine Aulnette
Editing: Rodolphe Molla
Production design: David Charlier
Main cast: Nehemie Bastien, Djanaina Francois, Fabiola Remy, Jean Jean