A directorial debut set in Beijing follows a lonely night watchman on his rounds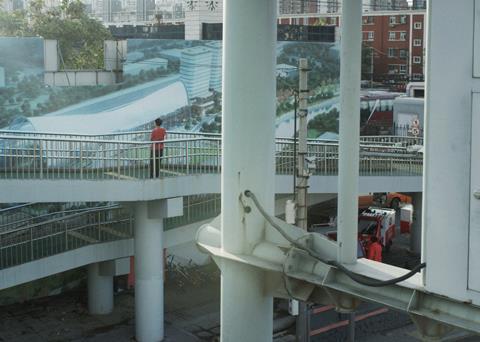 Dir/scr. Ivan Marković, Wu Linfeng. Germany / People's Republic of China / Serbia. 2019. 60 mins.
From Tomorrow on, I Will takes aim at a rapidly modernising China as a small-town transplant struggles with Beijing's sprawling rhythms. athough Ivan Marković and Wu Linfeng's story is also universal. The writing/directing duo's first feature focuses on the minutiae of its city setting, while channelling the inertia and malaise of feeling out of place in an ever-changing world. Festivals will provide the film with the clearest path to audiences after its Berlin bow, with the movie's arresting on-the-street imagery, eloquent lead performance from debutant Li Chuan and near-ethereal air all deserving of big-screen attention.
Favouring a firm mood over complex storytelling suits not only the film, but its central figure
Segueing from still shots of busy streets to the dim interior of Li (Li Chuan) and Ma's (Wei Ruguang) makeshift underground apartment, From Tomorrow on, I Will settles into its distinctive atmosphere. Marković and Wu, re-teaming after 2016 short White Bird and co-writing with Tanja Šljivar, keep the narrative slight and the tone almost meditative. The duo also co-edit (with Gang Hengju), establishing the film's patient, contemplative flow.
Favouring a firm mood over complex storytelling suits not only the film, but its central figure. As Li's night watchman job in a new building ushers him out of one dark spot and into another, he feels increasingly adrift from everything around him. That includes Ma, whose daytime delivery gig means the two snatch mere moments together in the same space; Beijing, which remains a hub of development oblivious to its individual inhabitants. Li's upervisor Mr. Wang (A Long) has long been resigned to drifting through an empty tower as well as an unfulfilling existence.
A man of few words — or with few people to share his select words with, more accurately — Li busies himself with mundane tasks, whether fastidiously checking light bulbs at work or carefully packing away his clothes upon his return home. When he finds someone sleeping outside his workplace, a tired body pushed up against the gleaming glass windows for shelter, it's a welcome distraction from his routine. It's also a glimmer of a bleak future that could beckon, especially when Ma announces that he's moving, leaving Li searching for somewhere to stay.
Found in a worker's market, and cast partly for the commonalities between his own and his character's predicament, Li shoulders the bulk of From Tomorrow on, I Will's emotional weight, although the filmmakers allow two snippets of song to convey the crushing toll felt by its protagonist. When Li sings "how did this world change so fast?" to himself as he curls up in bed, it's a quietly but powerfully devastating moment. And while a passerby is charged with crooning "I don't know why I persist", there's no mistaking who the sentiment applies to.
With Marković also taking on cinematography duties (his second lensing credit of Berlinale 2019, alongside I Was at Home, But), From Tomorrow On, I Will's wide shot visuals both further the film's reflective tone and give vivid detail to its chosen setting. Marković has a particular eye for the presence of nature amid Beijing's urban expanse, continually gravitating to splashes of greenery among the steel and concrete — a hopeful touch signifying that life can still go on, as also mirrored by the movie's poetic title.
Production company: Nanslafu Films
International sales: Rediance, meng@rediancefilms.com
Producer: Ivan Marković, Wu Linfeng, Fang Li
Screenplay: Ivan Marković, Tanja Šljivar, Wu Linfeng
Cinematography: Ivan Marković
Editing: Ivan Marković, Wu Linfeng, Gang Hengju
Production design: Gui Zhou
Main cast: Li Chuan, Wei Ruguang, A Long, Gu Yueqing, Wang Luying