Evoking comparisons to Iñárritu, Árpád Bogdán splits his Roma-centred story into three equal parts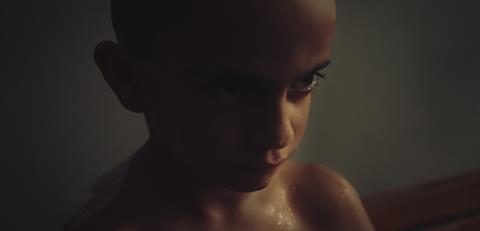 Dir/scr. Árpád Bogdán. Hungary. 2018. 120 min.
Following up his 2007 festival thoroughbred Happy New Life, director Árpád Bogdán once again stirs the political with the poetic in Genesis, a fiery and allusive look at the aftermath of a 2009 neo-Nazi attack on a Roma camp, told from three different points of view and fixed to three subjective perspectives. Premiering as part of the Panorama Special lineup in Berlin, this sophomore feature, backed by the Hungarian National Film Fund, could likely track a similar route across international festivals and should notch the Roma-Hungarian director's name up the list of significant art-house players – and not only because he's unafraid to show those contemporaries' many influences.
What the film forgoes in subtlety in makes up for in biblical heft
Interconnecting three independent narrative threads via one central act of violence and staged with muscular meticulousness, the film readily invites comparisons to the work of Alejandro González Iñárritu – including some very similar formal approaches when it comes to sound mixing and visual design. But Bogdán's literary inspirations are equally unmistakable; although linked, each chapter works as its own short story, each with a unique structure and thematic throughline.
Chapter one follows Ricsi (Milán Csordás), a nine-year-old Roma boy whose life is upended after a group of white nationalists attacks his camp and kills his mother. Chapter two follows Virág (Eniko Anna Illesi), a semi-deaf high school student who discovers with growing unease that her older boyfriend might have assisted in the murderous raid. Finally, the third chapter follows thirty-ish Hanna (Anna Marie Cseh), the attorney assigned to defend one of the assailants. Each chapter occupies its own 30-to-40 minute window in the film and the characters do not overlap before the very end. But if Genesis isn't particularly narratively dense, that's entirely by design.
Working from his own script, Bogdán is less interested in the sensational opportunities the story presents than the sensorial ones. The director keeps his camera close on his three subjects, tailoring the widescreen compositions and almost tactile sound-design to evoke each character's haunted experience. While following the young boy, the film assumes a patiently ethnographic approach, lulling us into the rhythms of Ricsi's Roma camp life before violence irrevocably severs it. In the subsequent chapter, Bogdán has great fun manipulating the sound design to mimic the effect of Virág's hearing aid fluttering in and out of her ear, further entwining film form and character.
Though the third chapter offers a number of narrative twists befitting its legal procedural backdrop, Bogdán makes an audacious formal choice to basically mute the background noise of the larger plot. Instead, he focuses almost entirely on extreme close-ups of actress Cseh either in furious motion or mournfully still at the expense of the larger narrative sweep. We gradually piece together Hanna's backstory by reading tableaus of skin, water and sweat like a map, bit by bit recognising that we witnessing a portrait of grief as a physical manifestation, and understanding that grief may be an island, but the world around it still turns.
Though often favouring a hand-held camera, Genesis is nevertheless fastidiously assembled. As the titular allusion makes clear, what the film forgoes in subtlety in makes up for in biblical heft, benefiting from D.P. Tamás Dobos' reverential invocations of fire, blood and water. As already noted, Gábor Császár's soundscapes are often characters onto themselves.
Production companies: Mirage Film, Focusfox
International sales: HNFF World Sales, klaudia.androsovits@filmalap.hu
Producers: Andrea Taschler, Gábor Ferenczy
Cinematography: Tamás Dobos
Editor: Péter Politzer
Production design: Kata Kővári
Music: Mihály Víg
Main cast: Milán Csordás, Anna Marie Cseh, Enikő Anna Illési, Lídia Danis, Levente Molnár, Zsolt Kovács, Tamás Ravasz, István Szilvási, Szofi Berki, Dezső Lukács