Brillante Ma Mendoza's latest follows an aspiring boxer who refuses to let disability define him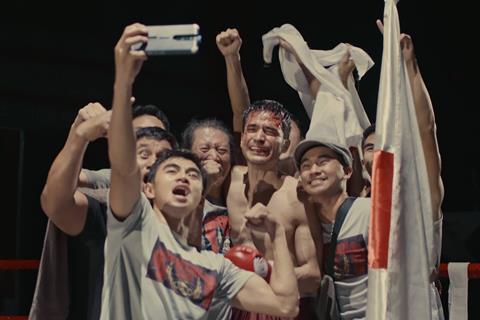 Dir: Brillante Ma Mendoza. Philippines/Japan. 2021. 110 mins.
Nao (Shogen) has had a prosthetic leg since a childhood accident. But the main impediment to his dreams of becoming a professional boxer is not his disability, nor his lack of determination. Rather, it is the entrenched attitudes towards disability in his homeland of Japan. Reluctant to give up, Nao travels instead to the Philippines to train in the hope of earning a professional boxing licence. This factually based drama — inspired by the true story of Naozumi Tsuchiyama — leans heavily on the drama within the boxing ring, at the expense of character or story development outside of it. But while the featherweight plot comes with a heavyweight running time, fans of boxing pictures will be impressed by the kinetic urgency of the fight scenes. And that's just as well, there are a lot of them.
The film makes its points as emphatically as any of Nao's punches
The underdog sport genre is something of a departure for Brillante Ma Mendoza, a regular on the international festival circuit who has won prizes at Cannes, Venice, Locarno and San Sebastian, among others. Gensan Punch's somewhat by-the-numbers approach to sport-film conventions might limit this picture's appeal to the arthouse sector, which tends to be the most receptive audience for Mendoza's work overseas. However, world rights have been acquired by HBO; it will stream as an HBO Asia Original following a screening out of competition at the Tokyo International Film Festival in November.
In the role of Nao, Japanese former model-turned-actor Shogen (Street Fighter: Assassin's Fist) combines a persuasively dangerous presence during his bouts with an old-fashioned courtesy away from the sport. Nao, it is soon established, is an honourable man and a proud one who is sensitive to the needs of others. But that's about all we know — there's a stiffness and restraint in Shogen's performance which draws a veil over the man behind the boxing aspirations. The briefest hint of a romantic interest lands a little awkwardly, perhaps almost creepily. Laboured flashbacks illustrate his childhood and the unconditional support of his mother, but the film is most successful when it focuses on the day-to-day dynamics in the low-rent training gym in Gensan Quarter of General Santos City, where Nao hopes to hone his skills.
Nao's first encounter with his new trainer, Rudy (Ronnie Lazaro), is disconcerting. Newly arrived from Japan, he is introduced to a dishevelled, rabble-rousing little man who is in the middle of a fist fight in a seafront tuna market. But despite communication issues — their shared language is faltering English — a mutual respect and affection develops. This bond, plus an accident during a match which claims another fighter, causes Rudy to start to worry about the safety of his student. He offers to fix Nao's final match in order to guarantee his eligibility for the professional licence, a suggestion that Nao angrily rejects. It is essential for Nao that, having faced discrimination for his disability throughout his life, he succeeds — or fails — on the same terms as other fighters. The film makes its points — about ableism within the world of sport and broader society — as emphatically as any of Nao's punches.
Production companies: Center Stage Productions (CSP) Co., Gentle Underground Monkeys Co., Ltd.
Worldwide distribution: HBO
Producers: Brillante Ma Mendoza, Takahiro Yamashita, Krisma Maclang Fajardo
Screenplay: Honee Alipio
Cinematography: Joshua Reyles
Editing: Ysabel Denoga, Armando Lau, Peter Arian Vito
Production design: Dante Mendoza
Music: Diwa de Leon
Main cast: Shogen, Ronnie Lazaro, Beauty Gonzales, Kaho Minami, Jun Nayra, Vince Rillon