Dir: Mark Waters. US. 2009. 100 mins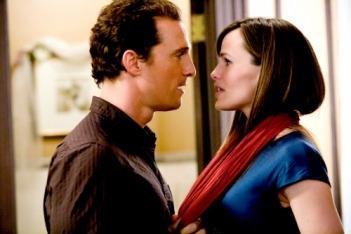 Matthew McConaughey's familiar romantic comedy persona – the lovable rogue with dimples in his cheeks and a twinkle in his eye – gets a little older and wiser in Ghosts of Girlfriends Past, a romantic take on the Christmas Carol scenario that starts unpromisingly but ends up, thanks largely to co-star Jennifer Garner, being briefly affecting. As early summer counterprogramming this New Line production could prove a solid box office performer even if it doesn't match the success of similarly-targeted recent releases (Sex and the City, Four Christmases, He's Just Not That Into You) from the resurgent Warner label.
Warner opens the PG-13 romcom wide in North America this weekend, opposite potential summer blockbuster X Men Origins: Wolverine. The aim will be to provide a mostly female-oriented alternative to male-oriented action.
The UK gets the film day-and-date with the US while openings in other territories are spread throughout the summer. Recent romcoms from both McConaughey and Garner have performed significantly less well internationally than domestically so the independent distributors in New Line's international network may have their work cut out for them with this offering.
Script writers Jon Lucas and Scott Moore, who also worked on New Line's Four Christmases, introduce McConaughey's Connor Mead as a photographer playboy who's not above interrupting sex with one woman to dump three others on a conference call. Reluctantly showing up for the country wedding of his more romantic brother Paul (Breckin Meyer), Connor wreaks havoc by groping the bride's mother (Anne Archer), destroying the cake and pronouncing to the guests, including his childhood friend Jenny (Garner), that love is just "a magical crutch for the weak and uneducated."
That night, Connor gets a visit from the spirit of his playboy mentor, Uncle Wayne (Michael Douglas). Wayne has arranged for Connor to take a tour of his romantic past, present and future with the film's title characters acting as guides. And Jenny turns out to be the tour's centre of attention.
Under the direction of Mark Waters (Mean Girls, Just Like Heaven), the film slogs through its first act with little to offer in the way of comedy or romance. Connor is more cheesy than amusing, the supporting characters and situations feel re-used from other ghost or wedding movies, and the jokes are mostly pretty lame. There's also a crassness to the tone that makes it hard to laugh at the chick-chasing antics of Connor and his ghostly uncle.
Surprisingly, though, things become more appealing when the film starts to focus, at first in flashbacks and then in the present, on the relationship between Connor and Jenny, one of the few women who seems immune to his supposed charms. The scenes involving the two characters as kids, then teens, then adults lead up to a pleasant if conventional third act in which Connor sees the error of his ways.
While McConaughey does manage to give Connor a more interesting and vulnerable side in the story's latter stages, it's really Garner's understated performance that lends the film what charm and warmth it has.
The supporting cast includes several veteran performers whose talents are oddly used. Robert Forster gets a stock role as the up tight father of the bride. Anne Archer's part amounts to a single, rather off-putting scene with McConaughey. And Douglas is slightly creepy (perhaps intentionally so) as Robert Evans lookalike Uncle Wayne.
Production companies
New Line Cinema
North American distribution
Warner Bros
International sales
New Line International
Producers
Jon Shestack
Brad Epstein
Screenplay
Joe Lucas & Scott Moore
Cinematography
Daryn Okada
Production design
Cary White
Editor
Bruce Green
Costume design
Denise Wingate
Music
Rolfe Kent
Main cast
Matthew McConaughey
Jennifer Garner
Breckin Meyer
Lacey Chabert
Robert Forster
Anne Archer
Emma Stone
Michael Douglas