A teenage boy struggles with his attraction to his male best friend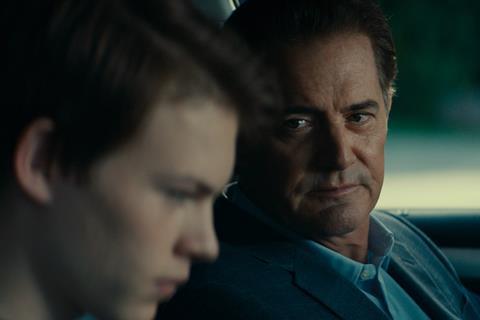 Dir/scr: Keith Behrman. Canada. 2018. 92mins
Acceptance of oneself and others is at the core of Giant Little Ones, an undemanding but sweetly touching coming-of-age story. Writer-director Keith Behrman chronicles the anxieties of a sensitive young man who suddenly finds himself questioning his sexuality — as well as other preconceived notions about his world. Josh Wiggins makes for a very likable rooting interest, and the cast as a whole sells this drama's simple big-heartedness.
Though hardly radical, Giant Little Ones' advocacy for empathy is warmly argued
Premiering in Toronto, Giant Little Ones has some marquee value thanks to Maria Bello and Kyle MacLachlan in supporting roles. But this gentle film will probably play best with younger audiences, particularly those who may be going through some of the same personal crises that visit these characters.
High school student Franky (Wiggins) is a popular swimmer whose best friend is his teammate Ballas (Darren Mann). Both of them have girlfriends, but after a night of drinking with Ballas leads to a murky, off-screen romantic encounter — and Ballas then tells their friends that Franky came on to him — Franky discovers that his classmates view him differently, although he insists he's not gay.
Directing his first feature since his 2002 debut Flower & Garnet, Behrman delivers his tale with utter straightforwardness, clearly wanting to emphasize the sincerity of his message. While that earnestness is no doubt genuine, it can rob Giant Little Ones of electricity, which is especially troublesome since Behrman's coming-of-age narrative isn't especially fresh.
Still, Wiggins is particularly good as a bright teenager who's reeling after this unspecified encounter with his long-time friend — suddenly, the foundations of his life no longer seem solid. But Franky's soul-searching also forces him to confront a personal failing, which is that he's never forgiven his father Ray (MacLachlan) for leaving his mother Carly (Bello) to be with another man. Wiggins' performance is nuanced enough to suggest that Franky's fear of being gay is, in part, a judgmental, homophobic holdover from his anger at his dad's betrayal.
It's through such specificities that Giant Little Ones distinguishes itself, finding some emotional truth in potentially familiar scenes. Even when characters behave predictably — including Ballas, who abruptly rejects his old friend, too frightened to even acknowledge the romantic feelings that got stirred during their encounter — there's a rawness to the portrayals that feels appropriate to these teenage characters. The film reminds viewers that, for younger people, those first adolescent brushes with hormones, insecurity and attraction occur without the benefit of perspective. One wishes Behrman was a bit more sophisticated in his execution, but it could be argued that the story's plain-spokenness might be most beneficial to its target audience.
A reserved MacLachlan has an especially moving speech near the film's finale that doubles as Giant Little Ones' thesis about learning to embrace life's messy unpredictability — not to mention learning to love oneself. The younger ensemble players are a bit wobbly, but Taylor Hickson excels as Ballas' sister Natasha, who has had to face her own stigmatization because of a perception from her peers that she's promiscuous.
In the film's second half, Natasha and Franky start spending time together — a development that raises interesting questions. Is their attraction a product of them both feeling like outcasts? Or is it a subconscious attempt on Franky's part to work through his feelings for Ballas? The two actors' rapport is so lovingly rendered that we're willing to simply accept their characters' sympathetic connection, no matter its larger implications. Though hardly radical, Giant Little Ones' advocacy for empathy is warmly argued — perhaps encouraging you, in kind, to forgive this slight film's shortcomings.
Production companies: Mongrel Media, Euclid431, Sugar Shack Productions, Storyboard Entertainment, Scythia Films, Vigilante Productions
US sales: UTA, ronson_r@unitedtalent.com and Schwartz-Wright_M@unitedtalent.com
International sales: Celluloid Dreams, charlotte@celluloid-dreams.com
Producer: Allison Black
Production design: Zosia MacKenzie
Editing: Sandy Pereira
Cinematography: Guy Godfree
Music: Michael Brook
Main cast: Josh Wiggins, Darren Mann, Taylor Hickson, Peter Outerbridge, Kyle MacLachlan, Maria Bello