Felix Hermann explores the complexities of modern religious faith in his committed, cerebral drama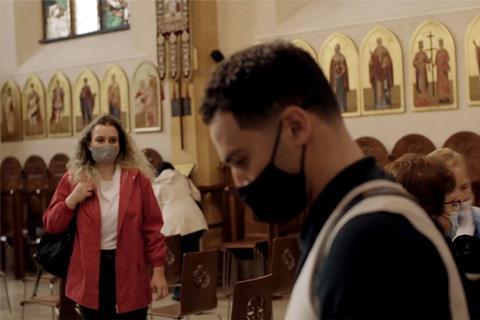 Dir: Felix Herrmann. Germany. 2022. 78 mins
There is today a thriving sector of film-making devoted to Christian religion – but since it's largely associated with the American fundamentalist right, it's one of the most disreputable areas of contemporary cinema. Elsewhere in the world, it takes commitment, nerve and, dare one say, faith to seriously attempt to address Christian themes on screen. The successful examples are few – Paul Schrader's First Reformed being a recent mainstream example – but young German writer-director Felix Herrmann takes up the challenge with quiet commitment in God is a Beetle, a thoughtful essay-drama that's in equal parts theological and more generally philosophical.
Lead actors seemingly chosen for their likeable, quiet ordinariness flesh out what might otherwise have been a dry affair
Featured in Munich, the locally-born director offers a work that is stripped down rather than austere, and emotionally as well as intellectually engaging; but the film's determinedly cerebral approach will make it unlikely to find further exposure outside very specialized niches, even with God on its side.
Divided into three chapters, the story –set in Munich and the nearby countryside – begins with Aline (Amelle Schwerk). Having just failed to graduate in design studies, and newly ditched by her boyfriend, she's reluctantly heading to Munich to train as an art teacher, stopping off to see her dad in the country. He ropes her in to work with him on a loft conversion, then takes her to the village church, where something unexpectedly piques her interest – and it's presumably not the creaky choral rendition of Leonard Cohen's 'Hallelujah'. Aline approaches the elderly local priest and, after a pensive philosophical pep talk from him, prepares to move on, evidently puzzled that she, of all people, has responded to the religious impulse.
The second section focuses on Benjamin (Hassan Akkouch), an earnest young man who works in the video department of Munich newspaper Süddeutsche Zeitung, but really aspires to write "radical literary reportages", or fiction in the manner of currently hip US novelist Ottessa Moshfegh. Wishing to "realign his life", he consults a nun (Aurelia Spendel OP, a real-life Dominican) with whom he has a wide-ranging discussion of angels, androgyny, 'resonance' and the Virgin Mary, sparked by his fascination by a famous Fra Angelico painting of the Annunication.
Later, Benjamin spots Aline in a Greek Orthodox church, makes a friendly approach, and later, in Part 3, having bonded over their art historical interests, they spend time together and discuss love – but an open ending has each of them separately musing in voice-over, leading to a remark of Aline's that explains the film's title.
A notable aspect of the film's agenda is its serious intent to discuss Christian ideas in a 21st century context of multiple faiths and changing conceptions of gender. A friend of Benjamin's introduces the tradition of 'ambiguity tolerance' in interpretations of the Quran, based on the notion that "truth is not a singular thing… [but] variety". And Benjamin's fascination with angels and androgyny connects, as a friend points out, with the theories of gender identity proposed by the massively influential thinker Judith Butler – a theme reflected in Benjamin's very direct personal identification with the Virgin Mary.
The dialogue is spare, outside the film's philosophically complex passages; for much of the time, the actors appear at least partly to be improvising, or speaking in their own voices, notably in the case of the lead duo's respective religious mentors. Visual execution may seem functional, but the film's no-nonsense economy is not without grace (no pun intended, and yet…). Occasional inserted stills, of artworks or Benjamin's favourite writers, illuminate the ideas, while Covid-era shooting involving the occasional mask pays off thematically at one point when Benjamin removes his to reveal his candid smile. Lead actors seemingly chosen for their likeable, quiet ordinariness flesh out what might otherwise have been a dry affair; esoteric though the film's appeal may be, its introspective sobriety is certainly not unapproachable.
Production company: Iana Film
Contact: Iana Film info@iana-film.de
Producers: Eva-Maria Hartmann, Felix Herrmann, Seren Sahin, Aylin Kockler
Cinematography: Rita Hajjar
Production design: Lena Müller, Luisa Rauschert
Editing: Mila Zhluktenko
Main cast: Amelle Schwerk, Hassan Akkouch, Süheyla Ünlü, Jakob Defant