Dir: Ralitza Petrova. 2016, Bulgaria/Denmark/France, 99 mins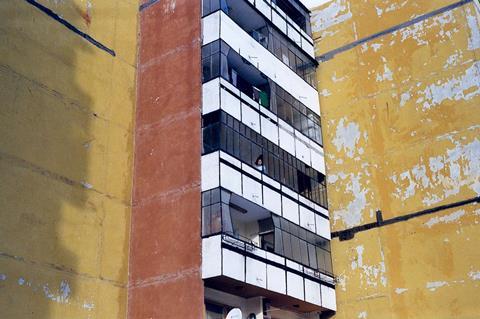 It's only fair to warn viewers allergic to Eastern European severity that Bulgarian drama Godless is every bit as unforgivingly stark – both aesthetically and narratively – as its title suggests. But Ralitza Petrova's debut feature – this year's winner of the Pardo d'Or in Locarno – is a steely, compelling work that mixes harsh social realism with a powerful strain of laconic character sketch, while also sporting moody quasi-thriller inflections that evoke Georges Simenon or certain US exponents of small-town literary noir.
Any redemption that the film may finally offer is of a pointedly bitter variety.
Tightly coherent both in narrative and sombre visuals, which together create a claustrophobic evocation of a morally septic world, the film also features a minimalist, mesmerizing lead turn from Irena Ivanova, winner of Locarno's Best Female Performance award. The film will be a festival must, and while its austerity will hardly make it a commercial hot potato, distributors committed to uncompromising new European drama will find Godless an intriguing prospect.
A former student of the UK's NFTS, and the maker of acclaimed shorts including 2009's By the Grace of God, writer-director Petrova makes a confident, fearless transition to feature length in a story that suggestively but sparingly makes dramatic connections between damaged souls and a damaged nation.
The film is set in a small, run-down town – it was shot in the province of Vratsa, in the Northwestern Bulgaria – and begins in a cave in the nearby mountains where a man has been hung up and left to die by some criminal types. We then meet protagonist Gana (Ivanova), a dumpy, glum-faced, almost silent young woman who works as a carer for elderly patients, most of them suffering from dementia. Gana appears to be a doggedly committed nurse, but we soon discover that she is stealing her patients' ID cards and selling them to a gang that uses them for money laundering – leaving the elderly victims to be prosecuted for their crimes, not least because crooked associates are doing the prosecuting.
Gana's life is altogether joyless. She lives with her mother in an apartment block where violent, gun-related incidents happen at night. She has a dreary relationship with a garage mechanic, and partner in crime, with whom she no longer has sex but shares a morphine addiction. And the world around her is unalloyedly pitiless, lawless and steeped in cynical corruption – a theme brought home when one of the men seen at a particularly sleazy orgy turns out, in a telling cut, to be a local judge.
There's one glimmer of hope in Gana's world, represented by Yoan (Nalbantov), a patient who still has his wits about him, and who conducts an amateur choir that sings religious songs. Gana is fascinated by the faith that Yoan claims to have, and by his tenacity. Targeted by the gang, the still tough elderly man swears that, having been screwed over once before – that is, by Bulgaria's former communist regime – he won't let it happen again.
Yoan's non-nonsense profession of faith prompts the introverted Gana finally to make a painful statement of her own, which partly explains the emotional damage she has sustained, although it doesn't sum up her condition too neatly nor offer any facile emotional release for the viewer.
The film's title may ostensibly appear too neat, given Gana's search for at least some element of hope (in fact, we learn at the end that 'Godless' is the name of a local mountain). However, while the film does contain a theological dimension - hinted at obliquely in a somewhat enigmatic, and arguably slightly jarring coda – any redemption that the film may finally offer is of a pointedly bitter variety. A thoughtful, trenchant and original addition to the canon of films about Eastern Europe's post-Communist malaise, Godless represents the debut of an uncompromising talent.
Production Companies: Klas Film, Snowglobe, Alcatraz Films, Film Factory
International sales: Heretic Outreach, ioanna@heretic.gr
Producer: Rossitsa Valkanova
Screenplay: Ralitza Petrova
Cinematography: Krum Rodriguez, Chayse Irvin
Production design: Vanina Geleva
Editors: Donka Ivanova, Ralitza Petrova
Main cast: Irena Ivanova, Ivan Nalbantov, Ventzislav Konstantinov, Alexandr Triffonov