Clash of the Titans goes straight to streaming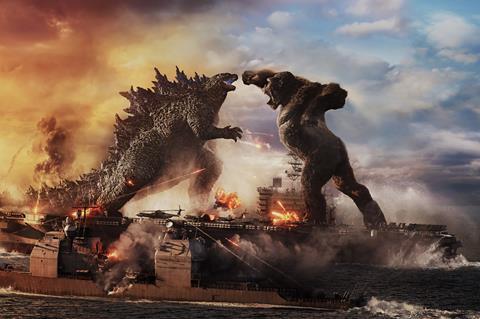 Dir: Adam Wingard. US. 2021. 113mins.
Monsters dwarf humans in more ways than one in Godzilla Vs. Kong, a gigantic action picture with plenty of spectacle but not much in the way of meaningful character interaction. This sequel to Kong: Skull Island and Godzilla: King Of The Monsters brings together the titular Titans for some epic tussles which are easily the film's highlight, offering the elemental pleasure of watching two formidable combatants clobber one another while wreaking havoc all around them. Director Adam Wingard embraces the towering scale of these showdowns, and a stellar cast that includes Alexander Skarsgard and Rebecca Hall tries to add some gravitas to the proceedings. Unfortunately, the actors fight a losing battle against some impressive special effects to command our attention.
The actors fight a losing battle against some impressive special effects
Warner Bros. will release Godzilla Vs. Kong on March 31 in the US in theatres and on HBO Max, following on from select international territories last weekend (it hits UK on demand April 1.) Considering that Godzilla: King Of The Monsters only brought in about $387m worldwide in 2019 — and 2017's Kong: Skull Island only $567m — this franchise is clearly not as popular as other ongoing cinematic series. But pent-up audience demand for a blockbuster could make this a very attractive offering as the pandemic drags on.
Following the events of Godzilla: King Of The Monsters, in which the mighty beast saved Earth from the rampaging Ghidorah, humanity is stunned to discover that, inexplicably, Godzilla is now on the warpath, targeting the US headquarters of the nefarious tech company APEX Industries. Meanwhile, two scientists, Nathan (Skarsgard) and Ilene (Hall), journey with Kong to Hollow Earth, the origin of the Titan monsters, in the hopes of tracking down an incredible energy source that might stop Godzilla.
New to the franchise, horror filmmaker Wingard (You're Next) follows in the footsteps of previous instalments, treating the Titans with an almost hushed awe, while surrounding them with human characters who aren't particularly memorable. Ilene has dedicated her career to understanding and caring for Kong — as well as watching over an orphaned deaf girl, Jia (Kaylee Hottle), whose ability to communicate with the great ape through sign language forges a special bond. But neither Hall nor Skarsgard can make hteir threadbare roles compelling. If anything, the seriousness they bring to the parts backfires: there's an inherent B-movie goofiness to the overwrought material that undercuts the actors' straight-faced intensity.
Simultaneously, Madison (Millie Bobby Brown), one of the survivors from Godzilla: King Of The Monsters, refuses to believe that Godzilla has suddenly turned malicious, convinced that APEX is hiding something which has triggered the creature's rage. She and her friend Josh (Julian Dennison) team up with Bernie (Brian Tyree Henry), an APEX employee and conspiracy theorist, to infiltrate the company and uncover its most recent lethal tech. This subplot is meant to provide comic relief — Henry does his best to wring laughs from his uptight, paranoid character — but Wingard and screenwriters Eric Pearson and Max Borenstein go about it in such a clunky way that it's rarely entertaining.
Not surprisingly, then, Godzilla Vs. Kong is mostly a feast of technical mastery. Both monsters are expertly rendered, with the occasional close-ups on their faces hinting at the soulfulness beneath the brawn. Likewise, Nathan and Ilene's journey to Hollow Earth, located at the planet's core, results in some stunning visuals — most strikingly, when Kong seems to defy gravity by floating through the air. And the final battle between Godzilla and Kong — which will be interrupted by the arrival of a new foe, familiar to those steeped in Godzilla lore — delivers the sort of widespread bedlam one would expect. (Hong Kong, all dressed up in vivid neon colours at night, is obliterated as the monsters destroy the city while fighting one another.)
But despite the diverting, giddy mayhem — heightened by Tom Holkenborg's majestically bombastic score — Wingard can't help but repeat tricks from the previous films, including 2014's Godzilla. By this point in the franchise, emphasising the monsters' sheer size and power, especially in comparison to the puny mortals who think they rule the planet, fails to be quite so stirring. Additionally, prior nots to these terrifying creatures being a metaphor for environmental catastrophe isn't as deft here. And while it may seem silly to complain that Godzilla Vs. Kong's humans are rather dull — after all, no one will check out the film for them — they're the characters we spend the most time with, not those fantastic beasts, who certainly leave a much bigger impression.
Production company: Legendary Pictures
Worldwide distribution: Warner Bros.
Producers: Thomas Tull, Jon Jashni, Brian Rogers, Mary Parent, Alex Garcia, Eric McLeod
Screenplay: Eric Pearson and Max Borenstein, story by Terry Rossio and Michael Dougherty & Zach Shields, based on the character 'Godzilla' owned and created by TOHO CO., LTD.
Production design: Owen Paterson, Thomas S. Hammock
Editing: Josh Schaeffer
Cinematography: Ben Seresin
Music: Tom Holkenborg
Main cast: Alexander Skarsgard, Millie Bobby Brown, Rebecca Hall, Brian Tyree Henry, Shun Oguri, Eiza Gonzalez, Julian Dennison, Lance Reddick, Kyle Chandler, Demian Bichir