Dir/scr. Jang Jin. S. Korea. 2009. 131mins.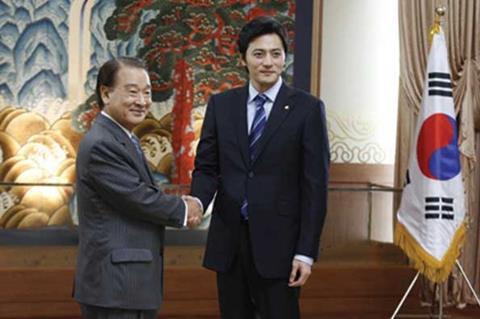 The emotional travails of three successive South Korean presidents make for a sweet if insubstantial confection in Good Morning President, this year's opening film at Pusan. Although somewhat unfocused and overlong, a good ensemble cast and effective characterisation ultimately make up for the work's deficiencies. While prospects for this Asian-style Love, Actually are thin in the West, local distributor CJ Entertainment can expect to secure limited sales in Asia thanks to star Jang Dong-gun.
Particularly notable is the director's complete sincerity and lack of irony in presenting his stories
At home in South Korea, Good Morning President could have real commercial impact, particularly given the recent deaths of two former presidents. Although not as laugh-out-loud funny as previous hits by director Jang Jin, the film's carefully-tuned sentiment should play to a broad audience when it opens wide on October 22.
President's plot, stretching over more than a decade, consists of three separate narratives in which each head of state faces a personal dilemma.
President Kim Jung-ho (veteran actor Lee Soon-jae) is six months from the end of his term when he unexpectedly finds himself holding the winning ticket in a $20 million lottery draw. Having earlier pledged to donate the money to charity should he win, Kim tries to devise a way to keep the money for himself.
Kim's successor Cha Ji-wook (Jang), a single dad dubbed 'Korea's JFK', is thrown off balance by a military confrontation between Japan and North Korea soon after taking office. At the same time he comes into contact with a poor university student who pressures him to donate a kidney to save his dying father.
Five years later Han Kyung-ja (Goh Doo-shim) is elected Korea's first woman president, but her kind-hearted, politically naive husband soon pulls her into a major political crisis. When he offers divorce in order to save her presidency, she must decide whether or not to accept.
Director/playwright Jang Jin is well known locally for his distinctive, talky brand of humour in such hits as Murder, Take One (2005; $14.4m) and Guns and Talks (2001; $10.1m). Jang also scripted and produced the 2005 megahit Welcome to Dongmakgol ($48m).
Good Morning President's unusually conceived story - akin to Love, Actually for political leaders - is awkward to stage, but various links between the three narratives help to keep viewers engaged. Particularly notable is the director's complete sincerity and lack of irony in presenting his stories.
Veteran actors Lee and Goh exude confidence in their roles as the first and third president. The boyish-looking Jang is serviceable in the role of Cha, however his fans will be disappointed that his character's long term, unspoken attraction to Kim's daughter E-yeon (Han Che-young) leads to nothing but the mildest of sparks.
The wide cast of supporting characters adds much to the film, especially Lee Mun-su as the president's chef and Ju Jin-mo as chief of security. It is the politicians' interaction with such characters, rather than the broader outlines of the plot, that make up the heart of this film.
Technical contributions are good across the board, particularly production design by Kim Hyo-shin.
Production company
Soranplayment
K&J Entertainment
International sales
CJ Entertainment
+ 82 2 2017 1211
Producer
Lee Taek-dong
Cinematography
Choi Sang-ho
Production design
Kim Hyo-shin
Music
Han Jae-gwon
Main cast
Lee Soon-jae
Jang Dong-gun
Goh Doo-shim
Lim Ha-ryong
Han Che-young