Hafsia Hersi shows her mettle in her second film, set in a Marseilles housing estate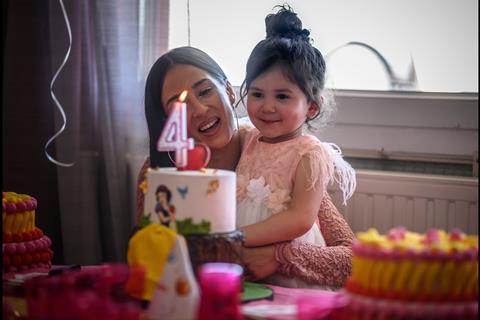 Dir/scr: Hafsia Herzi . France. 2021. 99mins
An instantly involving portrait of a fifty-something woman in contemporary Marseilles diligently holding together several generations, Good Mother firmly establishes actor turned writer/director Hafsia Herzi (that was her dancing and dancing in The Secret of the Grain) as a significant French filmmaker following her 2019 debut You Deserve A Lover. Anchored by non-pro Halima Benhamed (who had never acted and merely accompanied her daughter to an audition) as radiantly stoic central character Nora, the film's always-convincing narrative is a seemingly effortless example of all the intersectionality, diversity and women in front of and behind the camera anyone could possibly want.
Does endless sacrifice add up to the 'good mother' of the title?
The daunting difficulties and gradations of working class life and familial solidarity are a given, with honest hard work or the spectre of illegal drugs and sex work given the same weight as a birthday party for a four-year-old or legal fees for an incarcerated grandson. We learn gradually about the full extent of Nora's employment commitments and just how many people either live with her in a housing estate where the elevator is always broken, or depend upon her. Nora's smile is slightly wistful but she lives by a personal code of kindness bolstered by never-ending effort. She never complains.
Herzi shot on location in the low-income housing project directly across from the one in which she herself was raised. The faces and places feel authentic because they are. Handheld camerawork and the region's distinctive light help give the material lived-in authority. Carefully cast non-professionals convince.
The film begins with Nora's elaborate commute at the crack of dawn to her job at the airport as part of a mutually supportive group of five people who clean airplanes between flights. When her shift is over, she cooks and cleans for an appreciative elderly woman still living on her own. Those are her paid positions. In her own apartment she also cooks and cleans for and houses children, grandchildren, in-laws. If she ever had a truly free moment to herself, it was probably in the previous century. When a tough female family friend attends a birthday party for Nora's granddaughter, talk turns to how she makes the money for her pricey accessories. This leads to a deftly handled supplementary-income scenario few viewers could have anticipated.
If urban isolation and loneliness are a recurring topic in films, Nora can be said to have almost too many human connections. She is dignity personified. When hit with unexpected expenses or another setback, she's pragmatic. But does endless sacrifice add up to the "good mother" of the title? Nora's long dark hair — sometimes worn in a ponytail, sometimes in a thick braid — is greying at the top but her compound cares are, somehow, barely etched on her face.
Be it rap, variety show vocalists of yore or a union ballad sung with affection among friends, music is woven into these lives. During an early discussion in the airport locker room about the TV series Dallas it turns out Nora's fellow cleaner, a Black middle-aged Frenchwoman, has a crush on the character Bobby. The sequence is amusing and also a reminder of how far-reaching — and seemingly eternal — pop culture can be in the lives of ordinary people.
Production Company: SBS Films
International Sales: SBS International. k.chneiweiss@sbs-productions.com-
Producers: Said Ben Said, Michael Merkz
Editor: Camille Toubkis
Cinematography:Jérémie Attard
Main cast: Halima Benhamad, Sabrina Benhamad, Denise Giullo, Jawed Hamachi Herzi, Mourad Tahar Boussatha, Malik Bazhenaf, Anissa Boubaker, Saaphyra