Dir/scr/prod: Cristian Mungiu. Romania/France 2016. 123 mins.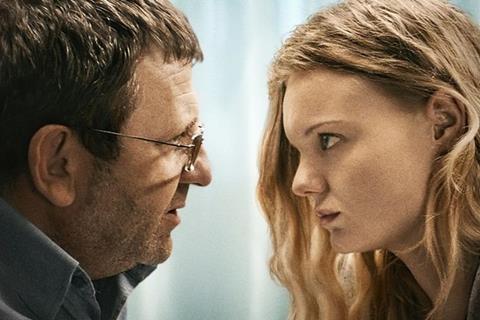 If any additional evidence was required to confirm Cristian Mungiu as one of the leading European filmmakers of the day, here comes Graduation, his most mature film to date. This portrait of parental dilemma which erupts out of the blue but is deeply anchored in Romanian soil is a universal story which brings with it strong prospects for both prestige and market success.
A realist who rejects stylistic adornments, Mungiu's direction is the kind that refrains from drawing attention to itself,
The director of the Palme D'Or winning 4 months, 3 weeks, 2 days and the Cannes directors award for Beyond the Hills takes an introspective and earnest approach to the story of Dr Romeo Altea (Adrian Titieni) a calm, respectable member of society. He wants the best for his daughter, Eliza (Maria Dragus), a brilliant high school student who has already been awarded a scholarship to study psychology in UK, and he will do anything in his power to keep her on track. All she has to do is pass the graduation exams.
But on the morning of the first session, someone throws a stone through their window at home. Then Eliza is attacked as she crosses a building site next to her school, almost raped and has one arm sprained. The doctor rushes to the police and gradually, as he tries to make sure this will not affect his daughter and jeopardise her future studies, he begins to make moral compromises, although he has thus far in life kept some of his arrangements tacitly under cover, like his mistress, Sandra (Malina Manovici).
Once he starts looking for ways to ensure his daughter's grades are up to the required level by contacting friends of friends that might do something about it, there is no way back for Dr Altea. One small favour leads to a slightly larger counter-favour and he is drawn inside a vicious circle - the opposite of everything he has been educating her to believe in.
Mungiu's script keeps the proceedings on a slow burn all the way through. All his characters basically mean well, in fact they are mostly pretty nice, but they have learned that life has its main highways and also dark back alleys which have to be navigated at times. This does not necessarily make villains out of them, however. The conflict between parents and children, that is between an already corrupt morality and one that is about to become corrupt (as the conduct of Eliza's boyfriend indicates at the end), is certainly at the heart of the issue. But no less relevant, or maybe even more, are the aspects of a society based on dubious moral standards which it does its best to ignore.
A realist who rejects stylistic adornments, Mungiu's direction is the kind that refrains from drawing attention to itself, inviting the audience to fully immerse itself in the story and forget about the people behind the camera. Seamless editing never allows the film to linger more than necessary at any stage and the cast is understandably required to underplay their parts, to generate lifelike characters, their lines delivered in murmurs rather than shouts. Led by the moving performances of Adrian Titieni and Maria Dragus, they all do an admirable job.
Production companies: Mobra Films, Why Not Productions
International sales: Wild Bunch (ndevide@wildbunch.eu)
Cinematography: Tudor Vladimir Panduru
Production design: Skmona Paduretu
Sound: Mircea Olteanu
Main cast: Adrian Titieni, Maria Dragus, Lia Bugnar, Malina Manovici, Vlad Ivanov Gelu Colgeac, Rares Andrici, Petre Ciubotaru