Returning writer/director James Gunn turns Vol 2 into a family affair, and the Guardians are all the better for it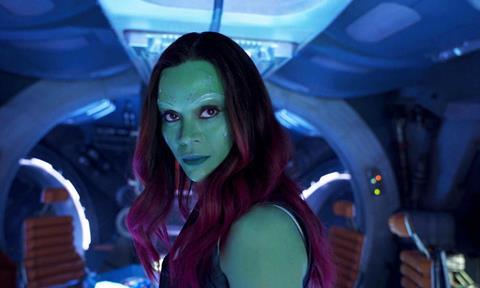 Dir/scr: James Gunn. US. 2017. 136mins
The Fast And The Furious franchise isn't the only Hollywood series consumed with family matters. In the lively and unabashedly sentimental Guardians Of The Galaxy Vol. 2, the titular ragtag band of space heroes battle for their lives, but the real stakes concern how these characters make peace with estranged fathers, dangerous siblings and feuding comrades-in-arms. Carrying the same irreverent spirit as the 2014 original but boasting a more dynamic visual and emotional palette, this Marvel sequel ought to be a potent entry in blockbuster season.
Vol. 2 is impressively self-contained, no matter the number of end-credits scenes hinting at future conflicts and new characters
Arriving April 28 in the UK and May 5 in the US, Vol. 2 looks to outdo the first film's $773 million worldwide take. Chris Pratt, Zoe Saldana and Bradley Cooper are all back, and the ensemble makes room for new additions Sylvester Stallone and Kurt Russell, which will only expand the sequel's demographic reach. Solid reviews and a lack of direct competition will lead to significant returns, paving the way for the already-announced Vol. 3.
As the film begins, smart-aleck Peter (Pratt), fierce warrior Gamora (Saldana), irascible Rocket (voiced by Cooper), adorable sapling tree Baby Groot (voiced by Vin Diesel) and deadpan muscle Drax (Dave Bautista) quickly get themselves into a jam after Rocket steals crucial batteries from a superior alien race called the Sovereign. On the run from the Sovereign's lethal armada, the team (better known as the Guardians of the Galaxy) is rescued by a mysterious man named Ego (Russell), who has a shocking announcement: he is Peter's long-lost father.
With writer-director James Gunn returning for this second instalment, it's no surprise that Vol. 2 continues the first film's fondness for 1970s rock music and an ironic attitude towards its planet-hopping heroes. What's consistently appealing about the Guardians is how rarely they behave nobly outside of their actual work, often acting selfishly when not called upon to protect the universe from evil.
But underneath Vol. 2's sarcastic exterior, Gunn's script has a big, bleeding heart, pinpointing the characters' insecurities and emotional scars. Chief among them is Peter's pain of never having known his birth father and watching his single mother die of cancer. At first, Ego's claim makes Peter suspicious, but the more the two men bond, the closer Peter feels to his father — something he has wanted for a long time, but which holds unexpected consequences.
Peter is not the only character to be plagued by family turmoil. Karen Gillan returns as the steely assassin Nebula, who wants vengeance on her adoptive sister Gamora. One of Vol. 2's subplots concerns Gamora's attempts to keep Nebula from killing her and the other Guardians, but Gunn crafts a dramatic arc so that these two sisters go from fiery combatants to wary partners, the simmering tension between them providing an opportunity to acknowledge what really drove them apart.
Admittedly, Vol. 2's thematic ambitions can make the film feel overstuffed. And as with most Marvel films, this two-hour-plus sequel suffers from spectacle fatigue, Gunn delivering the umpteenth epic comic-book-movie showdown in which several planets and the lives of all the Guardians hang in the balance. But if such excess is to be expected, at least he manages to ground the proceedings in genuine pathos.
Among the ensemble, Saldana shines as the taciturn Gamora, who resists her romantic feelings for Peter, fearing how a relationship might jeopardise the Guardians. Pratt is affable if not entirely compelling, his lack of depth somewhat muting Peter's emotional journey. Stallone is a bit wooden as Stakar, a mythic member of the interstellar scoundrels known as the Ravagers, but Russell lends a tender, grey-bearded gravitas to Peter's father, who has confessions to make to his son but also secrets to protect.
For a Marvel film — which can often feel like a small constellation in the company's expansive cinematic universe — Vol. 2 is impressively self-contained, no matter the number of end-credits scenes hinting at future conflicts and new characters. Gunn and cinematographer Henry Braham have fashioned their story's action sequences with a widescreen eye that allows for genuine intergalactic grandeur. The effects work is often gorgeous, especially with little Groot, whose openhearted sweetness and silent-movie silliness is Vol. 2's constant comedic highlight.
Production company: Marvel Studios
Worldwide distribution: Disney, http://movies.disney.com/
Producer: Kevin Feige
Executive producers: Nikolas Korda, Stan Lee, Victoria Alonso, Jonathan Schwartz, Louis D'Esposito
Cinematography: Henry Braham
Production design: Scott Chambliss
Editors: Fred Raskin, Craig Wood
Music: Tyler Bates
Website: http://movies.disney.com/guardians-of-the-galaxy-vol-2
Main Cast: Chris Pratt, Zoe Saldana, Dave Bautista, Vin Diesel, Bradley Cooper, Michael Rooker, Karen Gillan, Pom Klementieff, Elizabeth Debicki, Chris Sullivan, Sean Gunn, Sylvester Stallone, Kurt Russell