Dir. Meghna Gulzar, India, 2015, 133 minutes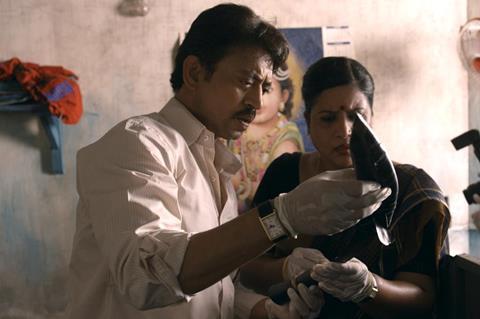 Guilty is an epic look at two gruesome killings, made worse by a series of wild miscarriages of justice. Meghna Gulzar's thriller based on a true story is such a mockery of the legal system that much of it plays as a comedy.
This tale of crime and corruption, with a dream team cast, should shake things up in India as it revisits one of the country's incendiary tabloid stories that exploded in 2008.
The film's appealing cast bring personality and plenty of laughs to a painfully serious story.
The ensemble drama, Gulzar's third feature, should also fill India's many new multiplexes and play to the broad Indian diaspora in the UK and North America. Parallels with quirky East Asian crime sagas should help build an audience there. Guilty, in Hindi and English, will also draw on the US art house crowd that knows Irrfan Khan from The Lunchbox or Life of Pi, although conquering the American market will be a struggle. US studio producers might eye the story for a remake.
Guilty's title points to a foregone legal conclusion reached in the murder saga, yet getting there, while rough and muddled in places, can be genuine fun here.
The crimes seem simple. Shutri, the 14 year old daughter of two proper doctors (Neeraj Kabi, Konkona Sensharma), is found murdered with her throat cut in their apartment. A Nepalese servant is the logical suspect, until his body is found. The police then decide that the girl's father killed both victims when he found them in bed together – an honor killing. While the father and mother, both accused accomplice, are locked up, two other Nepalese servants are scrutinized by a new detective on the scene, Ashwin Kumar (Khan) and both confess under the influence of sodium pentathol. It doesn't take long for things to derail once a judge takes a dislike to the parents, in this darkly satirical picture of Indian institutional dysfunction.
The action advances in massive awkward steps, groaning and pulsating its way in rhythm to an overbearing score by Vishal Bardwhaj, who is also a producer and the film's screenwriter. This can feel like CSI on sound hormones.
But even Bardwhaj's soundtrack can't overwhelm his own clever dialogue and the film's appealing cast, which brings personality and plenty of laughs to a painfully serious story.
Khan leads the ensemble as a dutiful detective, skeptical of cronyish bosses. He's also in court himself, in the middle of an awkward divorce from the beautiful Tabu.
Gajraj Rao gets the comic ball rolling as the oafish Inspector Dhaniram, who targets the parents with a smugness that anyone who has seen police incompetence will recognize. Atul Kumar plays a second clueless cop appointed to investigate.
When a country's best-loved character actors are cast as fools who happen to be public servants, the audience pays attention. Konkona Sen Sharma plays against the film's comic strain, capturing the hopelessness of a mother judged to be the killer of her child.
Gulzar's film includes a notice, before the action begins, that it takes no position on the guilt or innocence of the characters in its drama. Indians and anyone who sits through the odd and seductive police story will know better.
Production companies: Junglee Pictures, VB Pictures
International sales: IM Global info@imglobalfilm.com
Producers: Vineet Jain, Vishal Bhardwaj
Executive producers: Alan McAlex
Screenplay: Vishal Bardwhaj
Cinematographer: Pankaj Kumar
Editor: Sreekar Prasad
Production designers: Subrata Chakraborty, Amit Ray
Music: Vishal Bhardwaj
Main cast: Somen Mishra, Irrfan Khan, Konkona Sensharma, Neeraj Kabi, Sohum Shah, Gajraj Rao, Atul Kumar, Tabu