A man with a secret hides out in a place with a secret in this intriguing debut from Luxembourg.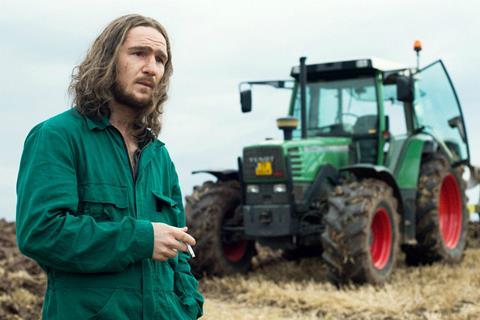 Dir. Govinda Van Maele. Lux/Germany/Belgium. 2017. 107 mins
If a man with a secret is looking for a place to disappear, a somnolent farming community in southern Luxembourg would seem to be the ideal place. But in this assured hybrid of backwoods thriller and fantasy, Jens (Frederick Lau) finds that the simple folk of Schandelsmillen are more than a match for him when it comes to murky mysteries. And his eventual disappearance is not quite of the nature he had in mind – or even deemed possible when he first strode across a field at dawn, looking for labouring work midway through the harvest.
If the audience is perplexed, that's nothing compared to the permanently befuddled lead character
This is the fiction feature debut from Luxembourg-born Govinda Van Maele, an alumnus of the Berlinale Talent Campus who previously directed several shorts and a feature-length documentary about rock music in Luxembourg titled We Might As Well Fail. The film has proven to be well-received during a festival run which is by no means over. And the combination of the film's quasi-Hitchcockian menace and the presence of Vicky Krieps (The Phantom Thread) in an eye-catching supporting role should boost the picture's chances of potentially connecting with an arthouse audience beyond the festival circuit.
Bedraggled, wearing a straggly beard and scowl, Jens is from Karlsruhe, Germany. "Ah! Big city boy. Very nice," comments village elder-statesman Jos (Marco Lorenzini) companionably. But, adrift in the enthusiastically amateurish thigh-slapping, beer-supping local festival, he might as well be from another planet. He soon realises the impracticality of trying to keep a low profile when his arrival in the village is the most talked about event of the year.
Initially rebuffed, he finds himself adopted, first into the bed of single mother Lucy (Krieps) and then into a labouring job for a grudging local farmer. That Jens has his reasons for holing up in this nowhere town is immediately obvious – his only luggage is a holdall crammed full of banknotes. More slippery and harder to pin down are the motives of the locals, with their too-eager confidences and gifts. Jens is provided with a trumpet and expected to fill a vacant spot in the local brass band. Later, he stumbles into a ready-made family.
And if the audience is perplexed, that's nothing compared to the permanently befuddled Jens, who, bless him, is not the sharpest man ever to shovel cow manure for a living. He becomes fascinated by the fate of another man, Ostermeyer, who simply disappeared one day, leaving a gap in the lives of the villagers. Particularly the female villagers.
Handsomely shot on 35mm, the photography has a pleasing visual rhythm. The frame is frequently carved into sections: by reflections, by the frame of a bus stop and, in one of the most chilling sequences, by rows of maize in which Jens finds himself threatened. The same landscape, shot at different times of the day, and the season, takes on an unknowably mercurial character. And the country nights are fringed with the kind of inky darkness that could swallow a character whole, like the slurry pit which provides such an ominous motif throughout the picture.
The film's conclusion is its biggest gamble. And if it is one that doesn't entirely pay off, the picture is still more likely to generate head-scratching debate than it is to be dismissed as a failure.
Production companies: Les Films Fauves, Propeller Film, Novak Prod
International sales: Stray Dogs sales@stray-dogs.com
Producers: Gilles Chanial, Olivier Dubois, Melanie Blocksdorf
Screenplay: Govinda Van Maele
Production design: Audrey Hernu
Editing: Stefan Stabenow
Cinematography: Narayan Van Maele
Music: Dominique Depret
Main cast: Frederick Lau, Vicky Krieps, Marco Lorenzini, Leo Folschette, Pit Bukowski