A Mexican military cadet is forced to endure an environment of violence and abuse in David Zonana's second feature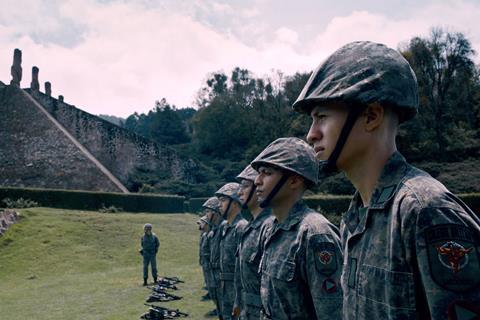 Dir/scr: David Zonana. Mexico. 2023. 88mins
Violence seems to be everywhere in Mexican society but at the country's Heroic Military Academy, where 18-year-old Luis (Santiago Sandoval Carbajal) and the latest cohort of fellow 'Colts' have just started their four-year officer training programme, it is particularly insidious. It's enmeshed in academy culture, with cruelty and humiliation as casual between the trainees as conversation. David Zonana's stark and accomplished second feature shines a light on the normalisation of violence in Mexico, and on the cyclical nature which perpetuates it.
Shines a light on the normalisation of violence in Mexico
Zonana started as a producer: he co-produced Chronic by Michel Franco, who in turn takes a producer credit on both of Zonana's pictures. In a way, Heroic can be viewed as a companion piece to Zonana's first film, Workforce, which premiered in Toronto in 2019 and went on to pick up a haul of prizes at subsequent festivals. Both pictures deal with the power and wealth imbalances in Mexico which force the poor into exploitative working environments. Both deal with the way the proximity to power can – and almost inevitably does – corrupt. It's not exactly revelatory stuff, but Zonana's handling of the themes is impressively assured. Heroic should have no problem matching the warm festival reception of its predecessor, and it could be of interest to an adventurous distributor or curated streaming platform.
What's interesting about this depiction of the dog-eat-dog landscape of Mexican military training is that Luis – whose army wage comes with medical insurance that keeps his diabetic mother alive – is not the primary target of the bullying of his superior officers. On the contrary, his skill as a marksman (his soldier father taught him how to shoot before he disappeared from his life) earns him favour with Sergeant Eugenio Sierra (Fernando Cuautle), the smirking sociopath who tells his division that "the beatings will make you stronger".
Sierra recruits Luis for a special mission, which he claims is sanctioned by the higher-ups but which looks suspiciously like organised thuggery. And the Sergeant makes no secret of his preferential treatment, pulling Luis from the ranks before the rest of the recruits undergo a particularly gruelling hazing ritual. But while Luis escapes the physical brutality suffered by the rest of the Colts, he is on the front line for a drip feed of mental violence from Sierra and the other sergeants, who watch torture videos on their phones for kicks.
Luis's indigenous background – shared with several of the other recruits and with the General in charge of the academy – adds another element. With his father missing from his life, Luis is searching for an identity and a sense of belonging. Zonana fills the picture with Aztec warrior imagery; an eagle visits his dreams and the parade ground is fringed by imposing Aztec-inspired statues. And for all the brutal elements of the training, Luis does forge close friendships with fellow newbies – friendships which are strained by the favouritism that Luis is shown.
Increasingly gaunt and haunted, Luis struggles with the pressure of observing the bullying without intervening. And Zonana's choice of an ominously rumbling score and his repeated use of slow tracking shots through the empty dormitory make it all too clear that this pressure cooker of toxic masculinity is about to blow.
Production company: Teorema
International sales: Wild Bunch International feripret@wbinter.eu
Producers: Michel Franco, David Zonana, Eréndira Núñez Larios
Cinematography: Carolina Costa
Production design: Ivonne Fuentes
Editing: Oscar Figueroa Jara
Music: Murcof
Main cast: Santiago Sandoval Carbajal, Mónica del Carmen, Fernando Cuautle, Esteban Caicedo, Carlos Gerardo García, Isabel Yudice