An adaptation of Stanislaw Lem's novel fails to ignite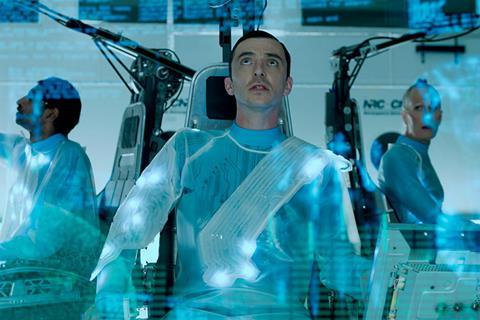 Dir/scr. György Pálfi. Hungary/Canada. 2018. 108mins
Filtering Stanisław Lem's 1968 novel through an energetically edited mix of present-day drama, faux news footage, and space-set hijinks, Pálfi's sixth feature always seems as if it's just stamping the writer/director's stylistic sensibilities across a collage of standard sci-fi elements. Fans of the author's critique of Cold War oppression, its societal ramifications and its influence upon scientific inquiry will find the text a mere starting point here, turning the book's philosophical musings on alien contact into an unconvincing conspiracy thriller - and reducing Lem's work to B-grade sci-fi at best and a messy slog at worst.
The film brings its various aspects together with choppy restlessness and a jumpy low-fi sheen
From virtually dispensing with dialogue in his debut Hukkle, to using a woman tumbling out of a window to frame anthology Free Fall, Pálfi's filmography has been marked by experimentation; however His Master's Voice's busy aesthetic and chaotic narrative won't be confused for avant-garde filmmaking. Likely to remain limited to genre festivals, neither will the Tokyo-bowing film rank among the best Lem adaptions (although, thanks to both Andrei Tarkovsky and Steven Soderbergh's versions of Solaris, as well Ari Folman's The Congress, it enters a formidable field.)
It's fitting that, when protagonist Peter (Csaba Polgár) explains the bleak reality of '80s-era Hungary to a new American acquaintance, he is told that it sounds "just like science fiction". Every aspect of the film's storyline dwells on this idea; that is, that the line between reality and flights of fancy is thinner than one might think. Nearly four decades after his mathematician father disappeared without explanation, Peter is still looking for the man who abandoned his family — and every potential clue steeps him further in a sci-fi mystery.
Peter's search resumes after spying his dad's likeness in a sensationalised documentary, all about mysterious incidents in Colorado back in 1982. In the US with his girlfriend (Diána Magdolna Kiss), he's soon on a quest that involves spontaneous human combustion and transmissions encoded in gamma ray bursts. And, of course, an enormous military cover-up.
Co-scripted by Pálfi with regular collaborator Zsófia Ruttkay plus Nagy V. Gergö, His Master's Voice hasn't met a narrative twist that it didn't relish. With some of its tale unravelling through exposition-heavy news clips, other sections taking place on a spaceship trying to send a signal into the void, and montages of old family photos and dreams about orgies also included, the film uses its mash-up of parts to feign complexity that isn't there otherwise.
The film brings its various aspects together with choppy restlessness and a jumpy low-fi sheen, yet still looks and feels routine from start to finish. Rote performances do little to lift the material, though Polgár and company are hardly helped by dialogue that sounds as if it exists in a sci-fi script and nowhere else.
With 2012's Final Cut: Ladies And Gentlemen, György Pálfi presented a love story through hundreds of clips, splicing together segments from other movies and ruminating on cinematic tropes in the process. The Hungarian filmmaker's latest doesn't retain the same approach, but His Master's Voice might have been more successful if it had.
Production companies: KMH Film, Canada's Quiet Revolution Pictures
International sales: HNFF World Sales, klaudia.androsovits@filmalap.hu
Producers: Ferenc Pusztai, Michael A. Dobbin, Charles V. Bender, Emilie Blézat
Screenplay: György Pálfi, Zsófia Ruttkay, Nagy V. Gergö
Production design: Adrien Asztalos
Editing: Réka Lemhényi
Cinematography: Gergely Pohárnok
Main cast: Csaba Polgár, Eric Peterson, Diána Magdolna Kiss