Lee Jung-eun shines as a struggling director tasked with restoring a damaged film from a deceased woman director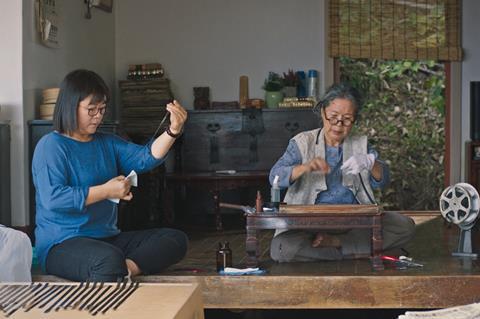 Dir/scr: Shin Su-won. Korea. 2021. 108 mins.
A dispirited woman director finds unlikely inspiration through the restoration of a deceased counterpart's final project in Hommage, an exceedingly lovely drama from Glass Garden filmmaker Shin Su-won. Lee Jung-eun gives a marvellously restrained performance, communicating her character's midlife malaise through the slightest of gestures and her infinitely expressive face. A lament for the marginalisation of women filmmakers, both then and now, Hommage is equally bittersweet in its depiction of women's often-secondary role in society and the general erosion of film culture, resulting in a picture with the gentle air of a resigned sigh.
A journey that's as much a treasure hunt as it is an existential exploration
Premiering at the Tokyo Film Festival, Hommage could find international traction thanks to Lee being part of the ensemble of the award-winning Parasite. And Hommage should attract cineastes, who will appreciate Shin's mystery-like approach to her main character's investigation into the imperilled 1960s film she's been hired to restore.
Ji-wan (Lee) has just released her third film, Ghost Man, and from what we can gather, it's far from a hit. (Even her college-age son Bo-ram, played by Tang Jun-sang, would rather watch The Avengers than her "boring" pictures.) Stuck in a loveless marriage and desperately in need of funds, she takes a job restoring A Woman Judge, which will be having a 50th anniversary screening at a local festival. But the surviving print is damaged — part of the film is missing, as well as some of the sound — which forces Ji-wan to go on a fact-finding mission to find cast and crew who may still be alive who could help her piece together the lost segments.
Hommage's film-within-a-film is an actual picture that came out in 1962, although Shin takes creative license to shape her own story, explaining that A Woman Judge was the third and final film from Jae-won Hong, a pioneering Korean woman filmmaker who died in 1999. (The actual Hong only made one film.) Ji-wan, concerned that her own third film may be her last, feels a kinship to Jae-won, especially because she relates to A Woman Judge's tale of a motivated professional woman confronting a patriarchal society that insists she focus on motherhood and marriage.
Shin sends Ji-wan on a journey that's as much a treasure hunt as it is an existential exploration. Ji-wan speaks to everyone from Jae-won's former editor to a man who operates a rundown theatre where A Woman Judge used to screen, but her hopes of returning A Woman Judge to its former glory is equally about restoring Jae-won's legacy as it is boosting Ji-wan's belief that voices like hers are valued in the world. Sadly, Ji-wan learns enough about Jae-won's creative and personal struggles to recognise that not much has changed in 50 years for women filmmakers and women in general. Flipping through one of Jae-won's script, Ji-wan stumbles upon a line of dialogue that feels like cruel prophecy: "You will vanish someday, like I did."
Lee never oversells Ji-wan's plight, letting the audience experience the myriad burdens facing this woman, whether it's the spectre of menopause on the horizon or the fact that her husband (a superbly callous Kwon Hae-hyo) seems utterly disinterested in her, convinced she should give up this idea of being a director. Shin gives the material a graceful understatement, which allows minute tragedies to resonate louder. (A touching subplot involves the corpse of a neighbour that was found in her car three months after she expired — a deft metaphor for Hommage's overall theme of the erasure of women.) But the film's delicate melancholy wouldn't be nearly as powerful without Lee's weary, determined tone. Ji-wan has faced much unhappiness in her life, but if she can rescue A Woman Judge, maybe she can still do some good.
The film's unhurried pace creates a wistful mood that perfectly mirrors Ji-wan's own sense of permanent limbo. Hommage has twists in store — both for Ji-wan and A Woman Judge — although they're never rushed or urgent. Rather, they resemble the film's offhand observations about the challenges facing heartfelt, personal cinema in an era when Marvel threatens to dominate the landscape. Hommage ends in that rundown theatre, a symbol of the kind of filmgoing threatened by streaming services and competing entertainment options. It's a poignant closing note, suggesting that as much as Shin worries about the paucity of women's voices in film, she's concerned about the industry's overall health, too.
Production company: June Film
International sales: Fine Cut, cineinfo@finecut.co.kr
Producers: Francis C.K. Lim, Shin Su-won
Production design: Yoon Sang-yoon
Editing: Son Jin-woo
Cinematography: Yun Ji-woon
Music: Ryu Chan
Main cast: Lee Jung-eun, Kwon Hae-hyo, Tang Jun-sang, Kim Ho-jung