A journey from New Mexico to Montana is at the heart of Scott Cooper's brooding western.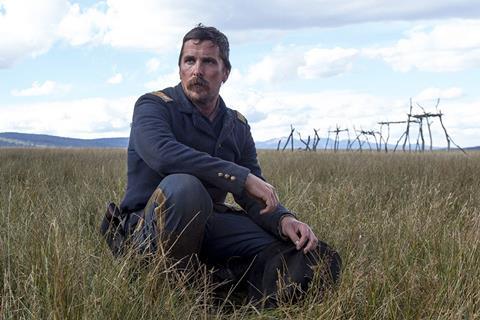 Dir: Scott Cooper. US, 2017, 133mins
Hostiles acknowledges that American history is steeped in blood and hatred but still searches for signs of hope arising from the ashes of countless atrocities. Scott Cooper's brooding western invests the genre with the psychological insights and guilty conscience of the 21st century. It may pay a commercial price for such noble intentions but it will attract audiences drawn to solemn, slow-burning dramas that give pause for thought.
A fastidiously understated Bale is highly effective at conveying the deep waters running beneath his stern features
Death stalks every frame of Hostiles. Pioneer woman Rosalie Quaid (Rosamund Pike) watches in horror as her husband and three children are slain by Comanche raiders. She has every reason to hate the Native Americans. Cavalry captain Joseph Blocker (Christian Bale) has spent his career killing "wretched savages" and regards himself as a pest controller, merely following orders as he pulls another trigger.
Times are changing; it is 1892 and there are those willing to speak up for the oppressed. Tormented souls are filled with remorse for their part in the taming of the wild frontier.
Blocker does not seem prone to doubt or introspection. It is all the more ironic that he is the one ordered to accompany his old adversary Chief Yellow Hawk (Wes Studi) and his family to their tribal lands in Montana. Yellow Hawk is terminally ill and his last request has become a Presidential order that the reluctant Blocker must obey.
Hostiles unfolds as a long journey from Fort Berringer in New Mexico to the Valley Of The Bears in Montana. Cinematographer Masanobu Takayanagi ensures that it is filled with sparkling images capturing the grandeur and changing landscapes of the American heartland. There are eye-catching images of fertile green plains, dusty desert mountains and riders captured against the dimming dusk light. There is no doubting the beauty of a country in which so many ugly things happen.
The widowed Rosalie becomes part of the company as they travel onwards. The journey is fraught with danger but filled with chances for sworn enemies to see the humanity in each other.
Christian Bale's Blocker is a gruff, taciturn figure more likely to grunt or nod his head than utter a sentence. Hardened by all the killing and hatred, he is similar to John Wayne's brutal racist Ethan Edwards in The Searchers (1956). Over the course of the film, Blocker becomes a changed man and it is a transformation marked by pensive moments, dawning realisation, lost friendships and anguish that all too rarely finds a expression. A fastidiously understated Bale is highly effective at conveying the deep waters running beneath his stern features.
Rosalie also finds her heart won over by the generous acts of Yellow Hawk and his family. It does disappoint that the film can't find the space to make the Native American characters more substantial. Wes Studi brings a warm resignation to the dying Yellow Hawk and Adam Beach is a lively presence as his son Black Hawk but there is a lingering sense that their purpose is to engineer the redemption of the white characters. Yet if Yellow Hawk or other members of his Cheyenne family had been given greater screen time then an already lengthy film would have become even longer.
Hostiles demands patience and concentration but rewards that with an assured, thought-provoking window into a past whose legacy is still being felt to this day.
Production companies: Le Grisbi Productions, Waypoint Entertainment
International sales: Creative Artists Agency filmsales@caa.com
Producers: Scott Cooper, John Lesher, Ken Kao
Exec prods: Will Weiske, Donald Stewart
Cinematography: Masanobu Takayanagi
Screenplay: Scott Cooper based upon the manuscript by Donald Stewart
Editor: Tom Cross
Prod des: Donald Graham Burt
Music: Max Richter
Main cast: Christian Bale, Rosamund Pike, Wes Studi, Adam Beach