Dir: Anne Fletcher. US. 2015. 87mins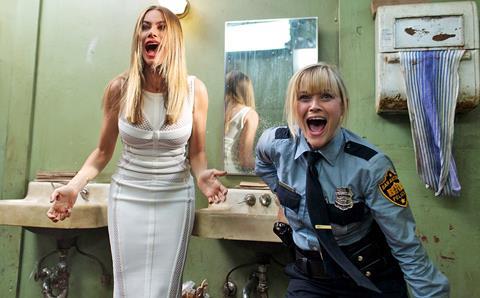 Hot Pursuit is as generic and unmemorable as its title, giving viewers the unpleasant experience of watching two normally funny actresses bickering interminably — or, at least, for 87 minutes. Although Reese Witherspoon and Sofía Vergara do have their fleetingly amusing moments, this road-trip buddy comedy feels like it rolled off the cliché assembly line, offering wan laughs and familiar setups. Hot Pursuit isn't actively terrible, but The Proposal director Anne Fletcher has constructed it with such sitcom blandness that it feels less like a movie and more like a time-killing distraction — a sketch of an idea of a potentially funny film which no one bothered developing.
Witherspoon and Vergara mostly pound away at the same tired putdowns throughout the movie's running time, the filmmakers vainly hoping that it will come across as endlessly adorable.
Opening May 8 in North America ahead of an international rollout which culminates in the UK on July 31, this Warner Bros. release will bank on Witherspoon's commercial viability, as well as audiences' familiarity with Vergara from her work on the popular sitcom Modern Family. Hot Pursuit will have to maximize its box office, serving as counterprogramming against Avengers: Age Of Ultron and Mad Max: Fury Road in the US before facing direct competition May 15 from Pitch Perfect 2. Theatrical prospects look only modest, with home video perhaps a better bet.
Hot Pursuit's main characters are a predictable study in contrasts. When we meet Cooper (Witherspoon), she's a mild-mannered, straight-arrow San Antonio cop who is stuck behind a desk after she accidentally Tasered an innocent civilian. (She thought when he yelled "Shotgun!" that he actually had a concealed weapon — not that he was telling his friends he wanted to sit in the passenger seat of their car.) Buttoned-down Cooper is assigned to escort the short-fused, sexy Daniella Riva (Vergara) to Dallas while her mobster husband testifies against a drug kingpin. But when Daniella's husband is murdered and Cooper discovers that crooked policemen are in cahoots with the kingpin, the two women go on the run.
Written by David Feeney and John Quaintance, Hot Pursuit goes down a familiar road: Cooper and Riva clash because of their differing personalities and cultural backgrounds, their contentiousness meant to produce plentiful comedic sparks. Fletcher has some experience with this kind of opposites-attract humour from The Proposal and The Guilt Trip — even Step Up paired unlikely lovers from different sides of the tracks — but Hot Pursuit does little to enliven stereotypical characters. Cooper is always the rule-following, prim-and-proper dork, and Daniella is always the curvaceous, motor-mouthed, uninhibited firebrand. Instead of getting a rise out of one another, the two women mostly pound away at the same tired putdowns throughout the movie's running time, the filmmakers vainly hoping that it will come across as endlessly adorable.
Quite the contrary: It's hard to think of a time when Witherspoon or Vergara has been less appealing. Working a thick Texas accent, Witherspoon could almost be playing the grownup version of Tracy Flick, her brilliantly pushy, goody-two-shoes character from 1999's Election. Like Flick, Cooper is humourless and tone-deaf, consistently confused why nobody finds her by-the-book rigidity likeable. Unfortunately, where Flick was monstrously exaggerated to great comedic effect, Cooper is endlessly dull, neither Fletcher nor Witherspoon ever quite able to figure out what's funny about her.
As for Vergara, she can be entertaining on Modern Family, using her broken English and va-va-voom body to suggest an airhead beauty who's actually smarter, sweeter and more soulful than she first appears. But the actress's wit is nowhere to be found in Hot Pursuit, which mostly portrays Riva as a shrill, shallow, materialistic bully who enjoys mocking Cooper's lack of femininity. Adding to the problem is that the two leads have almost no rapport, their sparring exhausting rather than madcap.
Although Hot Pursuit is, ostensibly, an action-comedy complete with car chases and shootouts, the filmmakers try to undercut the usual macho tendencies of the genre by dint of the fact that its main characters are women. This means jokes about how guys are grossed out about talk of menstrual cycles — and there's a mildly funny running gag where Cooper and Riva get annoyed whenever newscasters incorrectly report their height or age — but it's never liberating, fresh or (most importantly) hilarious. There is abundant, rightful criticism that Hollywood doesn't seem interested in the inner lives of its films' female characters. That makes Hot Pursuit all the more aggravating: Here's a chance to correct that imbalance even just a little, but the movie completely botches it.
Production companies: New Line Cinema, Metro-Goldwyn-Mayer Pictures, Foxy, Pacific Standard
Worldwide distribution: Warner Bros. Pictures, www.warnerbros.com
Producers: Bruna Papandrea, Reese Witherspoon, Dana Fox
Executive producers: Jeff Waxman, Sofía Vergara, Luis Balaguer
Screenplay: David Feeney & John Quaintance
Cinematography: Oliver Stapleton
Production design: Nelson Coates
Editor: Priscilla Nedd Friendly
Music: Christophe Beck
Website: www.hotpursuitmovie.com
Main Cast: Reese Witherspoon, Sofía Vergara, John Carroll Lynch, Robert Kazinsky