The beloved DreamWorks franchise soars out on a high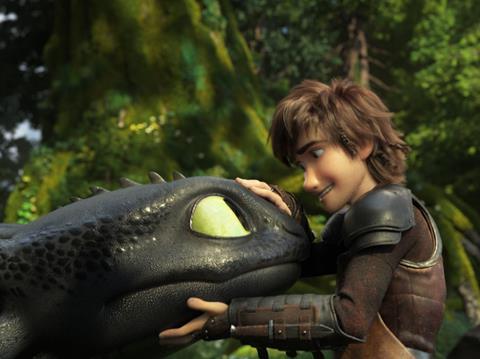 Dir/scr. Dean DeBlois. US. 2018. 94 mins.
Capping off a lively and warm-hearted trilogy, How to Train Your Dragon: The Hidden World delivers a crowd-pleasing finale to this beloved animated franchise. An eccentric community of Vikings, the colourful dragons they've learned to live with and love, and swooping aerial imagery all combine in this affectionate farewell to the popular series. And if it seems like DreamWorks is bowing out of a box office success a little early, knowing when to let go of something you care about is also one of the film's main themes.
The Hidden World brings plenty of character to its child-friendly drama, with heart and laughs taking precedence over tension
Cressida Cowell's books have been turned into 2010's How to Train Your Dragon and 2014's How To Train Your Dragon 2, earning over US$1 billion globally between them, figures The Hidden World will easily match. Debuting in Australia on January 3, it arrives primed for antipodean summer holiday viewing before launching on February 1 in the UK and February 22 in the US. Universal will hope that dragons can melt building blocks — in Britain, the film enjoys a one-week headstart over The Lego Movie 2; Stateside, it will follow its family-friendly rival two weeks later.
Before Games of Thrones and Vikings became TV hits, How to Train Your Dragon pre-empted the current fascination with winged beasts and Norse seafarers — just for much, much younger viewers. Under the guidance of three-time franchise writer/director Dean DeBlois, The Hidden World brings the series' central pairing to its natural conclusion. Devoted audiences already know that the film's two groups can live together peacefully and happily; however is that what is best for humanity's new fire-breathing friends?
In The Hidden World's predecessors, young leader Hiccup (voiced by Jay Baruchel) has always contended that dragons and Vikings can and should co-exist. And with good reason; while his heart belongs to long-term love Astrid (America Ferrera), well-trained Night Fury dragon Toothless is his best friend. Alas, as with the previous instalment, a notorious hunter comes to stalk the village of Berk. Grimmel (F. Murray Abraham) is particularly skilled, ruthless and determined — and, with a battalion of ships at his disposal, as well as a female Light Fury dragon, he won't stop until he captures and kills Toothless.
Plucky Hiccup must stand up to the threat, with the rookie chief hatching a plan to fly Berk's dragons across the sea to safety. Cue The Hidden World's title as well, which stems from a mariner's myth about a secret dragon oasis at the edge of the planet.
Aided by its high-profile returning voice cast — Cate Blanchett and Gerard Butler lend their voices to Hiccup's parents, while Jonah Hill, Kristen Wiig, Kit Harington and Christopher Mintz-Plasse add personality to his fellow Vikings — The Hidden World brings plenty of character to its child-friendly drama, with heart and laughs taking precedence over tension. The film's coming-of-age story might remain familiar, its emotional arc may be broad, and its messages about self-belief and taking chances fall into the tried-and-tested camp, but DeBlois still builds an engaging, sincere and tender world brimming with depth and detail.
Indeed, with Roger Deakins once again credited as a visual consultant, the movie's charms take flight in its imagery, which doesn't miss a chance to swoop, soar, or fill the frame with colour and movement. Eight years on, the How to Train Your Dragon films might not break any new aesthetic ground — with The Hidden World arriving so soon after Spider-Man: Into the Spider-Verse, that's especially evident — but they remain as vibrant as ever, whether taking to the air, presenting the quirks of Viking life or, as seen when this last chapter reaches its climax, erupting in eye-popping neon hues.
Production companies: DreamWorks Animation, Mad Hatter Entertainment
Worldwide distribution: Universal
Producers: Bonnie Arnold, Brad Lewis
Cinematography: Gil Zimmerman
Editing: John Carr
Music: John Powell
Production design: Pierre-Olivier Vincent
Main voice cast: Jay Baruchel, America Ferrera, Gerard Butler, Cate Blanchett, Kristin Wiig, TJ Miller, Christopher Mintz-Plasse, Kit Harrington, Jonah Hill, Craig Ferguson, F. Murray Abraham