Alexander Hant's debut, a frenetic Russian satire, won the East of the West competition at Karlovy Vary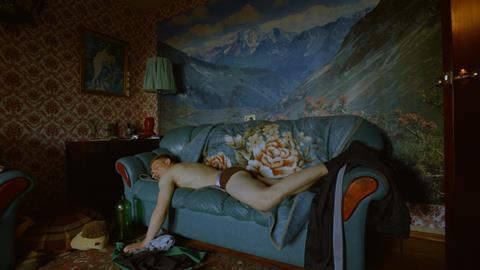 Dir. Alexander Hant. Russia. 2017. 90 mins
Much like the classic literature that typified its culture in the late 1800s, cinema originating out of Russia has always had a reputation for being formalist and somewhat dour. From its unwieldy yet completely factual title to its comic-book like aesthetic, How Viktor 'The Garlic' Took Alexey 'The Stud' to the Nursing Home (Kak Vitka Chesnok vez Lecha Shtyrya v dom invalidov), the debut feature from student filmmaker Alexander Hant comes across as both a satire on modern day Russian society and the films created within it.
There are canted angles galore while the editing is constantly frenzied
A recent graduate of the VGIK Film School in Moscow, Alexander Hant is something of an unknown quantity despite a couple of well-regarded shorts. But with this film winning Karlovy Vary's East of the West competition, Hant wlil certainly find himself much discussed and his film will be set for more favourable slots in upcoming festivals. Its frenetic style and mixture of the crude and satirical might win interest from more general audiences, meaning some independent distributors could hover around this the title.
Viktor (Yevgeny Tkachuk) - known as 'Garlic' to his friends - works at a low-paid job and spends his life drinking in bars, hanging round women of dubious honour and being scolded by a wife he clearly doesn't love (with the feeling being more than mutual). If asked, he'll relate his hedonistic ways to his past with a father who abandoned him and a mother who committed suicide, all making him ripe for this wayward life. But then his father Alexey (Alexey Serebryakov) – immobile, mute and dying – is thrown back into Viktor's life.
While ready to abandon Alexey as readily as Alexey walked away from him, Viktor finds himself nonetheless tempted by the promise of the inheritance of a flat, and he soon finds himself on a road trip with his dying father to deliver him to a nursing home. But Alexey is not as much an invalid as is generally believed and soon their trip takes in gangsters, new family members and the possibility of a brighter future for both.
The story here comes straight out of the social realist playbook, fielding every trope - from a hard-drinking protagonist who is only interested in what he can screw, smoke, sip or snort to two generations at odds with each other, each one as corrupt as the other. Yet the aesthetic is totally at odds with the stark naturalism one has comes to expect from this sub-genre, being drenched in primary colours from the red of Viktor's camper van to the green of his work uniform. There are canted angles galore while the editing is constantly frenzied.
In some ways How Viktor...brings to mind Danny Boyle's original Trainspotting, another film which juxtaposed grim reality with a stylised aesthetic. Hant's film is an altogether more crude affair in both tone and plot than Boyle's. Yet one cannot help think that this is in fact part of the film's undercurrent of satire – a meta-joke on the dourness of Russian cinema as well as the preoccupations of a large swathe of Russian society.
It does feel somewhat fitting that Alexey Serebryakov (who reportedly worked without a fee due to the film's low budget), known to most Western audiences for his turn in Andrey Zvyagintsev's Leviathan, takes a lead role in the film. His hard-drinking, 'dirty old man' provides a somewhat more joyous contrast to his multi-awarding performance as Kolya in Zvyagintsev's film. He's ably matched by rising star Yevgeny Tkachuk whose performance is delivered in broad strokes but ones that seem particular suitable for the canvas of the film.
Production company/international sales: VGIK – Debut, vgik-debut@mail.ru
Producers: Fedor Popov, Vladimir Malyshev
Screenplay: Alexey Borodachev
Cinematography: Daniil Fomichev
Editor: Nataly Shmidt
Art Director: Asya Davydova
Main cast: Yevgeny Tkachuk, Alexey Serebryakov, Andrey Smirnov