Dirs/scr: Rob Epstein, Jeffrey Friedman. US. 2009. 90 mins.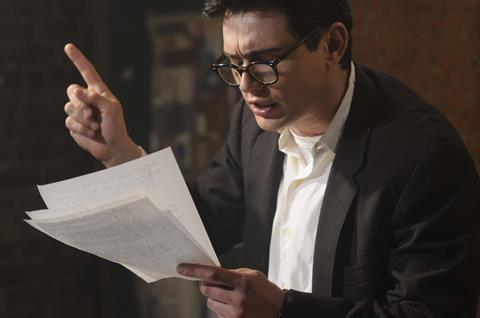 Thought-provoking if uneven, HOWL is an examination of art's enduring value that succeeds largely as an intellectual exercise. An unconventional biopic of revered US poet Allen Ginsberg and his groundbreaking 1955 poem Howl - which led to his acclaim but also landed his publisher on trial for obscenity charges - this drama may be too esoteric for general movie-goers, but James Franco's confident, sympathetic portrayal of Ginsberg should attract adventurous arthouse audiences.
Scenes with Ginsberg present a man who remains an intriguing mystery to the audience
Much as director Todd Haynes tackled Bob Dylan's iconic stature with the multi-character, multi-era I'm Not There, directors Rob Epstein and Jeffrey Friedman also approach Ginsberg's legend in unexpected ways, and HOWL's fractured narrative and cerebral style may cause it similar problems commercially. But although its theatrical appeal seems limited, partly due to the fact that Ginsberg remains only a niche cultural figure, HOWL could do better in ancillaries when viewers will perhaps be more receptive to sampling its unorthodox structure.
The film segues between three different story threads: courtroom scenes from the 1957 obscenity trial; animated sequences which illustrate the poem's text; and snapshot moments from Ginsberg's life around the time of Howl as he grapples with his homosexuality, looks for love and tries to develop his artistic voice.
With the documentaries The Celluloid Closet and The Times Of Harvey Milk (directed by Epstein alone), Epstein and Friedman have incisively explored America's reluctance to accept homosexuals into mainstream culture, so it might be tempting to assume they were drawn to Ginsberg simply because of his sexual orientation. But HOWL positions the poet as a larger symbol for the US's provocative, creative fringe that is constantly battling the country's homogeneous conservative culture.
Granted, this theme has been explored before in true-life dramas such as The People Vs Larry Flynt, but the film-makers largely avoid the de rigueur First Amendment grandstanding by drawing entirely from the transcripts of the 1957 obscenity trial, giving the courtroom scenes an authenticity and simplicity which eschew typical genre theatrics. Some may be disappointed that fine actors like Jon Hamm, David Strathairn and Bob Balaban deliver muted performances in the trial sequences, but these purposefully mundane episodes serve to highlight the actual courtroom interactions, offering a rare glimpse on screen of the nuts-and-bolts logistics of legal arguments concerning what constitutes obscenity.
The scenes with Ginsberg present a man who remains an intriguing mystery to the audience, even when he is explaining to an unseen interviewer his rationale for penning specific stanzas in Howl. Throughout the film, HOWL tries to upend biopic conventions in its portrayal of the poet by refusing to "explain" his motivations, instead offering an impressionistic, opaque overview of a few moments from his life.
Ironically, while the film-makers' documentaries have sought to illuminate their subjects, HOWL prefers to embrace the unknowability of its celebrated protagonist. This strategy will frustrate viewers who come to the movie with little beforehand knowledge of Ginsberg - just as Dylan neophytes were no doubt baffled by I'm Not There's heavily symbolic characters and settings - but the narrative tactic feels appropriate for an artist whose legend was at least partly based on his enigmatic demeanour.
The animated sequences provide a feast of fantastical, sometimes nightmarish images which complement the urgency and dread of the poem. In comparison to the stripped-down drama of the obscenity trial and the Ginsberg scenes, the animation creates a dynamic, fluid counterpoint which argues that Howl's vitality and imagination transcend both its scandal and even its creator's back-story.
As intellectually engaging as much of this is, however, HOWL suffers somewhat in its execution. The technique of juxtaposing the three story threads can become repetitive, and the animation sometimes fails to highlight the power of Ginsberg's stream-of-consciousness poetry, instead feeling superfluous and pretentious. And while Epstein and Friedman should be commended for jettisoning biopic cliches, HOWL's stubborn insistence on a nonlinear, chilly approach to Ginsberg's life and work inevitably leads to an erratic tone that never fully finds its dramatic rhythm.
Still, HOWL's unusual narrative strategy can become hypnotic once the viewer adjusts to its off-kilter construction, and Franco does a good job of hinting at Ginsberg's mercurial genius and sensitive spirit without lapsing into tortured-artist banalities. Clearly influenced by the film-makers' understated attitude toward their subject, Franco emphasises Ginsberg's ordinariness, save for a few verbal mannerisms that illustrate a brilliant mind still trying to find the best way to articulate its intricate visions. In an almost offhand way, Franco makes the poet an unassuming champion for the cause of controversial, challenging work, even if his most famous poem remains as inscrutable as it is deeply compelling.
To sign up for Screen's weekly Reviews Newsletter with all the week's new releases, international openings and full festival reviews delivered free to your mailbox every Friday, please click HERE
Production companies
Werc Werk Works
Telling Pictures
Rabbit Bandini
US Sales
Cinetic Media
(1) 212 204 7979
International Sales
The Match Factory
(49) 221 539 709-0
Producers
Elizabeth Redleaf
Christine Kunewa Walker
Rob Epstein
Jeffrey Friedman
Cinematography
Edward Lachman
Production designer
Therese DePrez
Editor
Jake Pushinsky
Music
Carter Burwell
Main cast:
James Franco
David Strathairn
Jon Hamm
Bob Balaban
Alessandro Nivola
Treat Williams
Mary-Louise Parker
Jeff Daniels