Chinese artist Ai Weiwei casts his eye on the world's refugee crisis, touring more than 40 refugee camps.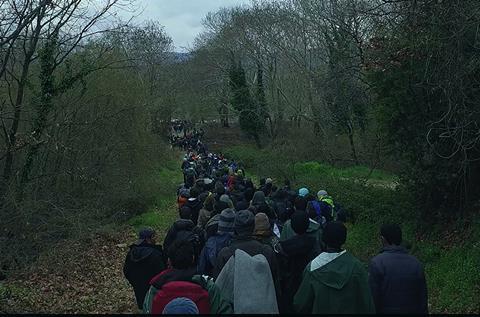 Dir: Ai Weiwei. Germany. 2017. 140mins
Films rarely fit their titles as snugly as Chinese artist and activist Ai Weiwei's ambitious, timely documentary survey of the worldwide refugee crisis. This sprawling, meandering compendium of dispossessed people in transit is a profoundly human film, a heartfelt call to empathy, but also something of a politicised nature documentary. A widescreen tapestry, it presents migration as a riverine flow created, in part, by those who want to dam it.
Human Flow is at heart an immersive world tour of more than 40 refugee camps in 23 countries
This is also a surprisingly 'regular' film from an artist known for his defiant run-ins with Chinese authorities and his audacious contemporary art installations (including a spate of recent refugee-themed works). Cadenced by interviews with experts and aid officials, peppered with fact-filled captions (some running in news-feed mode along the bottom of the screen), Human Flow is at heart an immersive world tour of more than 40 refugee camps in 23 countries. In its structure and argument, it is not an arc so much as a mosaic – something that may test viewers looking for a single take on a crisis which, we are informed, has reached Second World War proportions, with around 65 million currently displaced.
Ai Weiwei himself appears at several points in the film, interviewing Princess Dana of Jordan, helping refugees ashore on the Greek island of Lesbos, swapping passports with a Syrian asylum seeker, dancing at a Palestinian wedding in Gaza. But he never plays the Michael-Moore-style showman-narrator – the Ai approach is to understand the migrant experience by just hanging out with these guys. One keynote image is of him wandering along a beach in Lesbos with a young migrant kid, picking up shells and flotsam; they could be a grandfather and grandson enjoying a day at the seaside.
The film plays out in a series of roughly geographical chapters, each introduced by lines from writers and sages ranging from the Buddha to Kurdish poet Sherko Bekas. Within each tranche, different qualities of footage, from HD cinematic to grainy running-with-iPhone sequences, create a kind of dual register, in which a polished BBC-style nature mode rubs up against the urgent hardscrabble struggle of migrants to cross rivers or seas, get food, stay warm, stay dry.
If Human Flow's frequent aerial shots of people on the move remind us of Planet Earth shots of wildebeest seeking water, that's kind of the point. At the Idomeni camp on the Greek-Macedonian border, this God's-eye-view shows a whole shanty town of cheap tents housing what a caption estimates to be 13,000 blocked migrants. Beyond a shiny new fence put up by Macedonian authorities, empty fields stretch into the distance. There's a cinematic sheen to many of the film's earthbound shots too (the film's 12 credited DoPs include names like Chris Doyle). The push for theatrical action over and above the film's digital release by Amazon in the US will also be helped along by Karsten Fundal's evocative, melancholic soundtrack.
Later segments, not all of them featuring the director, take us to – among other destinations – the 'Jungle' in Calais, Lebanon, Jordan, Turkey, Pakistan, Kenya's vast Dadaab camp, Gaza, Berlin's Tempelhof airport refugee centre and, finally, the US-Mexican border.
Ai Weiwei's previous art-gallery documentaries – like his 150-hour work Beijing 2003 – often dealt with flows in an urban context, from ring-road traffic to the streams of money, people and concrete that have transformed Chinese cities and society. Human Flow is a far more accessible work than those formal experiments. If it's also a little less rigorous in its thematic and political focus, that's probably because, entering into the spirit of the exercise, Ai Weiwei let himself go with the human flow rather than setting a priori goals. Not a bad approach – though it demands a little patience from the audience, and a medal for the film's editor. Amazon will release Human Flow theatrically in the autumn with a distribution partner to be announced.
Production companies: Participant Media, AC Films
International Sales: Lionsgate, Wendy Reeds, wreeds@lionsgate.com
Producers: Ai Weiwei, Chin-Chin Yap, Heino Deckert
Executive Producers: Andy Cohen, Jeff Skoll, Diane Weyermann
Cinematography: Ai Weiwei, Murat Bay, Christopher Doyle, Huang Wenhai, Konstantinos Koukoulis, Renaat Lambeets, Li Dongxu, Lu Hengzong, Ma Yan, Johannes Waltermann, Xie Zhenwei, Zhang Zanbo
Editor: Nils Pagh Andersen
Music: Karsten Fundal