A young loner builds a fantasy world in this adaptation of the 2008 graphic novel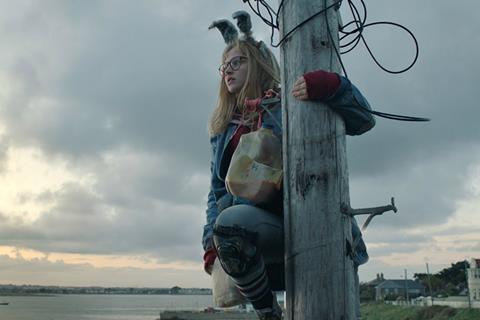 Dir: Anders Walter. UK. 2017. 104mins
Childhood trauma prompts a retreat into a world of pure imagination in this adaptation of the 2008 graphic novel by Joe Kelly (who pens the screenplay) and Ken Niimura, and the result is a sweetly imaginative, tenderly played coming of age drama.
Director Anders Walter's feature debut is funny and touching
The big caveat is that I Kill Giants covers territory already overly familiar from a lengthy collection of titles that range from Pan's Labyrinth and Where The Wild Things Are to A Monster Calls. As such, while it should have a built-in appeal to the young adult, family audience who cherished the graphic novel, there is every chance that it will get lost in the crowd.
I Kill Giants has a great central character in Barbara, played by Madison Wolfe. Dubbed "Nerd Queen" by her bullying schoolmates, Barbara has enthusiastically embraced her eccentricity, traipsing around a small American coastal town in a bedraggled state sporting rabbit ears and fiercely discouraging contact from anyone else. Fond of playing Dungeons and Dragons, she has appointed herself the saviour of her community. Giants lurk in the woods and the seas but she has prepared for them by setting traps, laying out lethal concoctions of bait and preparing herself for the coming conflict.
Barbara is more than a handful for her older sister Karen (Imogen Poots) who is buckling under the pressure of trying to keep the family together, making meals, earning money and sending Barbara and her brother off to school every day. There is an ominous absence of adult members in the household.
Things start to change, however, as Barbara is befriended by new girl Sophia (Sydney Wade), and saintly school psychologist Mrs Molle (Zoe Saldana) vows to crack her tough exterior to reach the lost soul struggling beneath.
I Kill Giants is handsomely made and has a feel for the callous cruelty of children who try to crush anyone who dares to be different. Madison Wolfe makes the precocious Barbara a brashly appealing figure, and she has strong support from Sydney Wade as her new best friend from England. The film includes some established names in minor roles with Noel Clarke disconcertingly appearing in one scene to utter a couple of lines as Mrs Molle's husband.
Director Anders Walter's feature debut is funny and touching, but you can so easily second guess exactly where the story is heading. It withholds the cause of Barbara's deep unhappiness long enough to keep you mildly intrigued (death? abuse? divorce?) but, once revealed, the film topples into full-blown, soft-focus tearjerker mode, exhorting us to embrace life and arguing that we are all so much stronger than we think. It's exactly the kind of sentimental mush that the earlier, tougher Barbara would have rejected out of hand
Production companies: Umedia, Adonais Films, Parallel Films, 1492 Pictures, XYZ Films, Having Me Films
International sales: XYZ Films info@xyzfilms.com
Producers: Chris Columbus, Michael Barnathan, Kyle Franke, Nick Spicer, Kim Magnusson, Adrian Politowski, Joe Kelly
Screenplay: Joe Kelly
Cinematography: Rasmus Heise
Editor: Lars Wissing
Production design: Susie Cullen
Music: Laurent Perez Del Mar
Main cast: Madison Wolfe, Zoe Saldana, Imogen Poots