Dir. Florin Serban. Romania-Sweden. 2010. 94mins.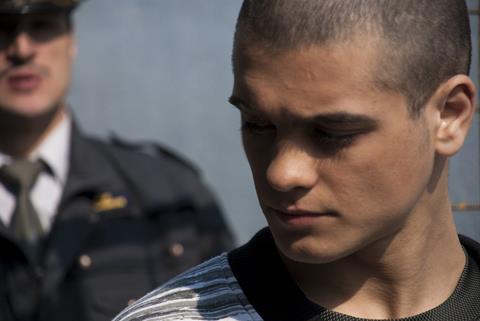 "Raw" is the key word to describe this debut film, and also its outstanding quality. The story of an 18-year-old juvenile delinquent (Pistereanu) who is about to be released from reform school but seems intent on sabotaging his chances of freedom, has rough edges and some evident shortcomings, but also a far more authentic ring than many similar, more sophisticated films made by experienced directors. A worthy addition to the new wave of Romanian cinema, some modest tweaking could secure this festival dates and arthouse exposure.
The non-professional cast, many of them inmates of juvenile penitentiaries, deliver fearlessly unpolished, lifelike performances
After four years in a re-education center, Silviu only has a few more days to go before he is released. But he soon finds out from his beloved younger brother Marius (Bratu) that their mother (Voda), who abandoned both of them years ago for a life in Italy, has returned and wants to take Marius home with her.
Silviu panics, realising after a searing confrontation with them both that unless he acts immediately, it will be too late to prevent it. Complicating matters further is the fact that he has fallen hopelessly in love with Ana (Condeescu), a trainee social worker sent to assess his plans for the future. Pressurised, confused, angry and desperate, Silviu attacks a guard and threatens to kill Ana unless his mother promises not to separate him from Marius. Yet even when all this is granted, he still steals the warden's (Constantin) car and escapes the facility with Ana in a grandstand act of defiance.
Originally a stage play by Andreea Valean, If I Want To Whistle, I Whistle has been adapted for the screen by another up-and-coming Romanian director Catalin Mitulescu (The Way I Spent The End Of The World), who worked with Serban on the final draft. To their credit, no traces of its theatrical past remain on the screen. If the pace is sometimes uneven and several scenes, particularly in the first part of the film, overstay their welcome, Marius Panduru's fluid, mostly handheld camera combined with Serban's driven direction generate enough energy to carry the picture through.
The cast is comprised exclusively of non-professionals, many of them inmates of juvenile penitentiaries. They deliver fearlessly unpolished, lifelike performances, completely spontaneous and natural in every respect. This is true for all the supporting roles, but is particularly impressive in the leads. Pistereanu moves beyond the stubborn rebelliousness of his character to intuitively and successfully capture not only the vulnerability but also the despondency of an 18-year-old who has not yet learned the meaning of the word "consequences". His two painful, vengeful confrontations with Voda, excellent in the role of his mother, are the film's high points.
To sign up for Screen's weekly Reviews Newsletter with all the week's new releases, international openings and full festival reviews delivered free to your mailbox every Friday, please click HERE
Production companies
Strada Film
Producers
Catalin Mitulescu
Daniel Mitulescu
International sales
Celluloid Dreams
(33) 1 49 70 03 70
Screenplay
Catalin Mitulescu
Florin Serban
Based on play by Andreea Valean
Cinematography
Marius Panduru
Production design
Ana Ioneci
Editors
Catalin F Cristutiu
Sorin Baican
Main cast
George Pistereanu
Ada Condeescu
Clara Voda
Mihai Constantin
Marian Bratu
Chilibar Papan
Mihai Svoristeanu
Alexandru Mititelu
Cristian Dumitru
Laurentiu Banescu