A rich, provocative drama from 'Unorthodox''s Maria Schrader plays in Competition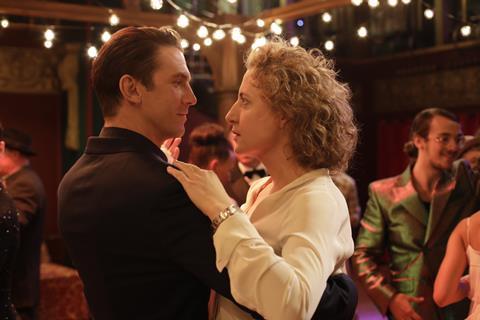 Dir: Maria Schrader. Germany. 2021. 105 mins
A research scientist at the Pergamon Museum in Berlin, Alma (Maren Eggert) approaches all aspects of life with a measured blend of curiosity, pragmatism and cynicism. It is this, together with her single status, which marks her out as an ideal candidate for an unique experiment: road testing a humanoid robot which has been precision tooled to replicate her requirements from the perfect man. Tom (Dan Stevens, superb) is a constantly evolving algorithm housed in a fully functioning male body, with the crisply groomed polish of a catalogue model and the romantic imagination of a Hallmark greeting card. The set up promises a high concept romantic comedy, but in execution, Maria Schrader's immensely enjoyable picture delves rather deeper, touching on philosophy, socio-sexual ethics and humanity's uneasily symbiotic relationship with technology.
Immensely enjoyable, intriguing and complex.
This is the third feature from Schrader (Love Life, Stefan Zweig: Farewell To Europe), who recently won a Primetime Emmy for her direction of the Netflix mini-series Unorthodox and who co-wrote the screenplay, a loose adaptation of a story by Emma Braslavsky. Originally developed as a TV movie for German channel SWR, the film has an arthouse breakout potential, which, with positive word of mouth, might rival that of the similarly female-led German comedy Toni Erdman (whose star, Sandra Hüller, appears here in a supporting role). Astute casting, of which the German-fluent Stevens is a stand out, will be a key selling point.
Alma's introduction to the man of her dreams plays out in an extravagantly romantic venue. A velvet draped bar full of beautiful people sipping cocktails and jitterbugging to the jazz band, it's a finely designed display cabinet for a luxury bespoke product. But the people are holograms and the sparking sexual energy at neighbouring tables is rendered by a sophisticated computer programme. Tom stares at her, his cobalt blue gaze unnerving and unblinking, and announces that her eyes "are like two mountain lakes I can sink into." Alma barely conceals her derision. But it's Tom's suggestive shoulder wriggle as he says the word 'Rumba!' that really turns her off. She tries to back out of the experiment but her supervisor insists that she goes through with it.
At her apartment, Tom makes non-threatening small talk and stacks of pancakes for breakfast; Alma packs him into the box room along with her hoover. Like any algorithm, he tends towards the most obvious options. A candlelit bath filled with rose petals, champagne on ice. "93 % of German women dream of this", he comments, head askew as he processes her less than ecstatic reaction. But Alma requires a partner who challenges her, a man who surprises her, rather than a generic approximation of romance. Tom's programming is designed to learn from her reactions, and gradually, loath as she is to admit it, he more closely resembles the kind of man she could fall in love with. It's an idea she struggles with. She tells him about her atheist revelation at the age of fourteen, and her vow not to pray even if she found herself on a crashing plane. He understands. Of course he does – he is programmed to do so. "You won't allow yourself to get close to a machine out of desperation," he observes.
But ultimately, Alma's reservations go beyond the hurt to her pride engendered by the fact that she might be relegated to life with a robot partner rather than a human one. The deeper concern for her are the implications of the fact that she – and by extension the rest of humankind – might actually be better served by a relationship with a finely tuned operating system programmed to gratify the needs and tastes of each individual. There's an obvious kinship here with Spike Jonze's Her.
The growing complexity of both Tom as an entity and of the ideas within the picture is mirrored elsewhere in the filmmaking. The score, in particular, is cleverly employed. At first, it's as obvious and undemanding as Tom's first cheesy attempts at romance. But as the story unfolds, jarring discords are introduced and the music, like the film itself, becomes increasingly intriguing and complex.
Production Companies: Letterbox Filmproduktion
International Sales: Beta Cinema beta@betacinema.com
Producer: Lisa Blumenberg
Screenplay: Jan Schomburg, Maria Schrader
Editing: Hansjorg Weißbrich
Cinematography: Benedict Neuenfels
Production Design: Cora Pratz
Music: Tobias Wagner
Main cast: Maren Eggert, Dan Stevens, Sandra Huller, Hans Low, Wolfgang Husch, Annika Meier, Falilou Seck, Jurgen Tarrach, Henriette Richter-Rohl