Dir. Justine Triet. Fr. 2016. 97mins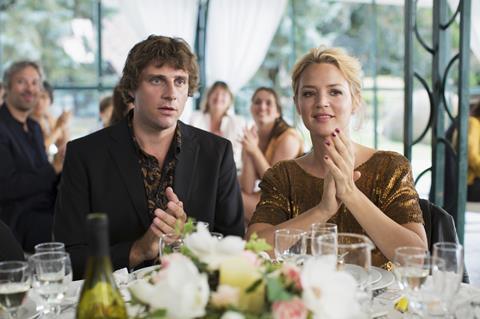 A fitfully amusing contemporary romp about a single mother whose personal and professional life are as volatile as an active volcano, In Bed with Victoria (Victoria) has its moments but too often falls short of the "oomph" that renders a comedy special. As the titular lawyer going through a rough patch that would make sandpaper blush, fetching Virginie Efira is in nearly every scene playing harried and overwhelmed with decent comic timing. But it's difficult to care about her compound difficulties even when she turns out to be far less ditzy in the courtroom than she is in her private life. After opening Critics Week at Cannes, this well-cast venture seems destined primarily for French-language audiences and fests in search of lighter fare.
The actors are very good but the material they're working with falls short of making Victoria's personal chaos consistently compelling.
Writer-director Justine Triet attracted notice with her 2013 debut Age of Panic, a semi-improvised feature filmed in part among the throngs at French Socialist Party headquarters the night François Hollande was elected president. In Bed With Victoria is a major step up in budget and tone as it continues to delve into exploring the balancing act of parenthood, romance and career for today's women.
The film starts with Victoria at her shrink's office, establishing that she often requires a sounding board for dissecting her disorderly existence. She also consults a fortune teller, sees an acupuncturist and sets up a fairly constant parade of one night stands via the internet after her most recent boyfriend announces he's leaving because he's just a glorified babysitter for her two young daughters.
The girls' dad, David (Laurent Poitrenaux), is a full-time blogger whose work consists primarily of revealing true and confidential details of his ex-companion's legal cases, without changing the names.
At a wedding Victoria attends, her friend Vincent (Melvil Poupaud) and his girlfriend (Alice Daquet) sing a song for the guests and make no secret of their carnal bond. Unfortunately, before the evening is over, the same woman is accusing Vincent of attempted murder for stabbing her with a large knife. Vincent insists that Victoria defend him. She insists that taking his case would be unethical.
At the wedding Victoria also re-connects with Sam (Vincent Lacoste), a mild-mannered former drug dealer she successfully defended.
Vincent, the woman he says he didn't stab, Sam and David will turn Victoria's already spread-thin life inside out.
The actors are very good but the material they're working with falls short of making Victoria's personal chaos consistently compelling. The courtroom sequences — including the peculiar but logical process of citing a dog as a witness — are among the best.
This is the talented Efira's sixth noteworthy role in the past year or so (she stars opposite a four-foot-tall Jean Dujardin in current French hit Up for Love" and has a small but crucial role in Paul Verhoeven's Elle) and one couldn't wish for a better choice to play Victoria, a smart woman whose confessions don't always land on the right pair of ears.
Production company: Ecce Films
International sales: Indie Sales Nicolas Esbach nesbach@indiesales.eu
Producer: Emmanuel Chaumet
Screenplay: Justine Triet
Cinematography: Simon Beaufils
Editor: Laurant Sénéchal
Production design: Olivier Meidinger
Main cast: Virginia Efira, Vincent Lacoste, Melvil Poupaud, Laurent Poitrenaux, Laure Calamy, Alice Daquet