The fight for abortion right in 1970s Spain is the focus of actress-director Silvia Munt's solid feature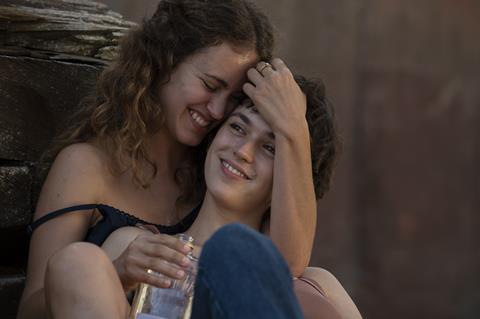 Dir: Silvia Munt. Spain/France. 2022. 93mins
Actress and director Silvia Munt's fiction feature In the Company of Women is a delicate, muted and solidly-built historical drama about the Spanish struggle for abortion rights in the late 1970s that features a captivating first lead performance from Alicia Falco. Recent 70s-set dramas such as Alberto Rodriguez's Prison 77 and Daniel Monzon's The Laws Of The Border show that there's a lot of mileage left in unpicking the historical tensions that have made Spain what it is today. In the Company of Women brings a fresh female perspective which, despite its tragic undertow, is best seen as a celebration of those heady, transformative times and a reminder of what solidarity can achieve.
Munt and co-scriptwriter Jorge Gil Munarriz feed the theme through a plotline that's busy but handled with a quiet elegance
The film is set in 1977 in the Basque town of Errenteria during the Spanish transition from dictatorship to democracy when long-suppressed ideas were starting to come into open conflict with the establishment. A real-life event, in which eleven women were jailed for having abortions, is a key part of the film's backdrop. Intense, moody teenager Bea (Falco, staking her claim as an actor to watch) is part of a group, led by firebrand Asun (Nagore Cenizo Arroyo), which is protesting against their imprisonment.
By contrast, Bea's mother Feli (Iztiar Ituno) is a put-upon homeworker whose husband Rafa (Ivan Massague) is in jail and who is perpetually angry with her daughter. We first meet on her knees, scrubbing floors for a rich family. She also cleans the home of a local well-to-do family where Miren (Elena Tarrats) is staying, initially for reasons that aren't clear.
When they first meet, Bea and Miren are initially uneasy with one another given their differing social classes, but they eventually draw close through their love of music. Bea's pregnant aunt Belen (Ainhoa Santamaria) falls ill and needs an abortion, and one of Bea's friends from the protest group helps out, with predictably awful consequences. It then turns out that Miren is also pregnant, and is being "hidden" by relatives until the child is born.
In The Company Of Women does a convincing job of showing the psychological, physical and social stress experienced by these women. Munt and co-scriptwriter Jorge Gil Munarriz feed the theme through a plotline which is busy but handled with a quiet elegance, and characters whose relationships develop subtly and credibly. The tone, though, sometimes becomes schematic, and you find yourself longing for some of its young protagonists' messy energy and passion to spill over into the style.
The tensions between Bea and Feli slowly resolve into a wonderful scene that makes great use of that simple old standby, the shared glance in the rear-view mirror, while the relationship between Bea and Miren – both rebels in their own way – blossoms into something unexpected. Only over the last few scenes do elements of schmaltz creep in, as the hard-edge political slant fades from view. Cinematographer Gorka Gomez Andreu generally plays things straight, at times overdoing the sepia tones, but makes time for the odd little flourish.
The atmospherics of small-town life at a time of divisive political strife are well-rendered, while the historical details are also taken care of. Period music also plays its part, principally a song by Los Brincos which the thoroughly modern Bea madly strums in her bedroom but which, a bit strangely, was already 10 years old at the time the film is set.
Production companies: Irusoin, Oberon Media, En La Frontera Película AIE, Manny Films, La Fidele Production
International sales: Filmax filmaxint@filmax.com
Producers: Ander Sagardoy, Antinio Chavarrias, Xabier Berzosa, Fernanod Larrondo, Monica Lozano
Screenplay: Silvia Munt, Jorge Gil Munarriz
Cinematography: Gorka Gomez Andreu
Production design: Llorenc Miquel
Editing: Bernat Aragonés
Music: Paula Olaz
Main cast: Alicia Falco, Elena Tarrats, Itziar Ituno, Ainhoa Santamaría, Maria Cerezuela, Nagore Cenizo, Ivan Massague