A police commissioner attempts to manipulate the emotions of an imprisoned teacher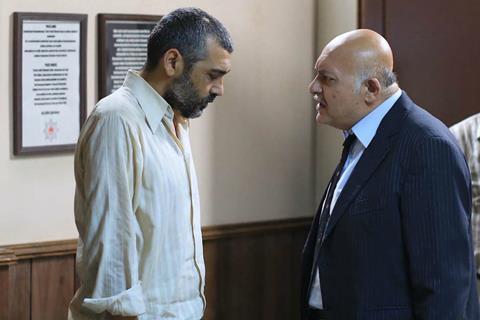 Dir/scr: Huseyin Karabey. Turkey. 2018. 115mins
Desire is weaponised in Adana premiere Insiders, an adaptation of Melih Cevdet Anday's conversation-heavy 1965 play that ruminates on human nature under fraught circumstances. While lead Caner Cindoruk puts in a gripping performance as a detained man simultaneously fighting for his freedom and against his urges, writer/director Huseyin Karabey (2014's Come To My Voice) struggles to mould an increasingly problematic premise into a wholly convincing drama — and similarly struggles with transcending the material's stage origins.
The narrative highlights the human and social impetus to achieve results at any cost
When a police commissioner (Settar Tanriogen) promises an imprisoned teacher (Cindoruk) time alone with his wife, he explains his reasoning as such: "Business and humaneness are two different things." With the six-month legal time limit for holding the inmate without trial days away from ending, however, the cop's motives are hardly noble. Certain that a conjugal tryst will finally entice his charge to confess to writing an inflammatory political note, the determined officer surreptitiously makes the necessary arrangements.
The first half of Karabey's feature follows a cat-and-mouse chat between the two men, with Tanriogen's police chief trying to intimidate the detainee into acquiescing, and Cindoruk's captive caught between maintaining his innocence and indulging his impulses. Tension bubbles between the actors as they tussle for power; indeed, the initial back-and-forth is sufficiently engaging that it almost comes as a disappointment when the film moves on.
Surprises abound when, in the second half, the captive comes face-to-face with his visitor, although it is to Cindoruk and actress Gizem Erman Soysaldi's credit that they imbue the situation and its sexual politics with even a sliver of believability. As the prisoner contemplates using force to satisfy his needs, parallels are drawn with the first half of the film. But while the narrative highlights the human and social impetus to achieve results at any cost, it is not enough to take away the film's clumsy air.
Visually, Insiders lives up to its name: boxed into one room for almost the entirety of its duration and emanating the corresponding sense of stifling confinement. As the camera peers at the characters in mid-shots and close-ups, cinematographer Ulas Zeybek also gives the film glimpses of the texture that is somewhat missing elsewhere.
Production company: Asi Film
Sales contact: Asi Film, huseyinkarabey@yahoo.com
Producer: Huseyin Karabey
Production design: Meral Efe Yurtseven, Yunus Emre Yurtseven
Editing: Murat Sercan Subasi
Cinematography: Ulas Zeybek
Music: Kıvanc Sarıkus
Main cast: Caner Cindoruk, Settar Tanriogen, Gizem Erman Soysaldi