Dir. Frankie Fenton. Ireland. 2016. 78 mins.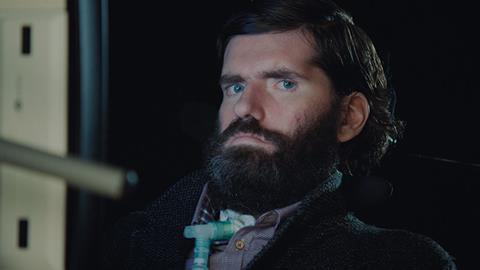 It is both appropriate, and poignant, that this documentary premieres in the World Documentary competition strand at Sundance Film Festival. In 2008, The Sound Of People, the second short from by Irish writer/director Simon Fitzmaurice screened at Sundance — and Fitzmaurice's life shifted on its axis. But this is not just a story of a young man finding his passion and his vocation, although it is partly that.
This tempers the wrenching nature of the subject matter with a crowd-pleasing message of the triumph of will and art over physical adversity
Two things came into focus during the course of the 2008 festival: Fitzmaurice's filmmaking ambitions crystalised, and the first symptoms of the disease that came close to robbing him of those dreams began to manifest. Shortly afterwards, Fitzmaurice — husband, father of two with a third on the way and hotly-tipped new filmmaking talent — was diagnosed with Motor Neurone Disease.In a shattering, lyrical narration, read by Colin Farrell, Fitzmaurice describes the experience of receiving the news. "The light leaves the room. And air. And sound. And time. I am looking up through a tunnel of myself."
Although the disease eventually robbed Fitzmaurice of the ability to speak, his voice is the lifeblood which flows through this very affecting documentary. The stark poetry of his words will be a key selling point of a film which explores, with unflinching candour, the effect of a life-limiting disease on a man and his family. Festival interest should be keen for this documentary, which tempers the wrenching nature of the subject matter with a crowd-pleasing message of the triumph of will and art over physical adversity. And an audience appetite for intelligent pictures dealing with disability should ensure some further interest, both theatrically and for other platforms.
First time feature director Frankie Felton has a wealth of archive material with which to shape a portrait of Simon as he was, before the disease gradually whittled away his ability to express himself physically and verbally. But it's as much through his words - the film takes material from, and shares a title with, an autobiography written by Fitzmaurice - and the words of his loved ones, that we get to know the man.
His relationship with his wife, Ruth, is the bridge between Simon before the disease and the 'stubborn bastard' who refused to submit to it. "I have never felt more alive with anyone, nor been with anyone more alive," he writes of his wife. And when, having suffered respiratory failure, he is offered the chance to die by the attending doctor, Fitzmaurice recalls a scene in The Princess Bride, when mostly dead Westley is asked what he has to live for and croaks out the answer, "True love". For her part, Ruth gives testimony to her husband and their life together in an affectingly open and candid straight to camera interview.
Ultimately it is not just true love that keeps Simon alive, but also the love of film and his work. Using an eye blink computer to write and communicate, he writes a feature film screenplay, titled My Name Is Emily, which he goes on to direct. The third act of this film is a celebration of Simon's determination and of supporting team which surround him; not least producer Kathryn Kennedy, who also worked on this film.
Production company: Kennedy Films, Newgrange Pictures
Sales: Autlook Filmsales salma@autlookfilms.com
Producers: Kathryn Kennedy, Lesley McKimm
Cinematography: Kate McCullough
Editor: Dermot Diskin
Sound Designer: Mark Henry
Score: Stephen Rennicks
Main cast: Simon Fitzmaurice, Ruth Fitzmaurice, Colin Farrell (narrator)