Super-villain origins story starring Joaquin Phoenix is a very dark gag indeed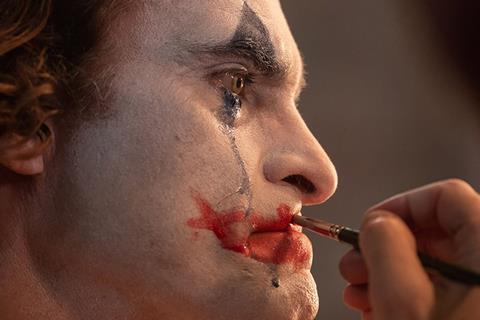 Dir: Todd Phillips. US. 2019. 118mins
An iconic comic-book villain gets an appropriately epic origin story in Joker, which allows Joaquin Phoenix's raw talent its grandest stage yet. In a significant departure from comedies like The Hangover, director and co-writer Todd Phillips achieves two potentially contradictory goals simultaneously: he delivers a fan-servicing blockbuster that highlights what is eternally captivating about the character, while at the same time offering a sobering critique of the sadistic nihilism that has long been the Joker's modus operandi. In the process, Joker both deconstructs and burnishes the legend of Batman's demented nemesis.
Character-driven and psychologically complex
After its Venice competition premiere, this Warner Bros. release will hit UK and US theatres October 4. A violent, bleak comic-book movie for grownups probably won't have the same success as other recent DC properties like Wonder Woman ($822 million worldwide) or Aquaman ($1.1 billion). But rave reviews for Phoenix's unnerving portrayal should entice viewers who are tired of superhero films but might be open to something a little more character-driven and psychologically complex.
Joker takes us to Gotham City in the early 1980s, when crime is rampant and poverty high. Arthur (Phoenix) is a clinically depressed party clown who has spent time in mental institutions and fancies himself a budding stand-up comedian. But after learning some shocking information from his elderly mother Penny (Frances Conroy) about his past, he begins to lose his already-tenuous hold on reality, discovering that he enjoys killing.
In the last 30 years, there has been no shortage of big-and-small-screen Jokers, with Heath Ledger winning a posthumous Oscar for his portrayal in 2008's The Dark Knight. But what gives Phoenix an advantage is that he can build the character from scratch, showing us the anguished man who will become the super-villain. To that end, the Oscar-nominated actor constructs Arthur as a variation on the other pained, emotionally blocked men he has played so well in films like The Master and You Were Never Really Here. And as Joker starts to find its rhythm, Phoenix brings new dimensions to what might seem like a familiar role for him.
It's not hard to deduce what classic films Phillips and long-time cinematographer Lawrence Sher borrowed for inspiration: The urban alienation of Taxi Driver and The King Of Comedy are clear thematic and visual touchstones. (Cheekily, Joker co-stars Robert De Niro as a Johnny Carson-esque talk show host who Arthur worships. The man who once played Travis Bickle and Rupert Pupkin is, this time, in the Jerry Lewis role.)
The clever cinematic referencing has its limitations, telegraphing Arthur's pathology and making it fairly predictable where this sad story will lead. But even so, Phoenix is such a jagged edge that we get wrapped up in Arthur's profound emotional torment. Joker is far from the first film to suggest a link between mental illness and murderous behaviour, but neither Phoenix nor Phillips revel in Arthur's descent into madness and bloodshed. There are viciously brutal deaths in Joker, but the movie recoils in shock at Arthur's actions, taking no pleasure in the character's desperate need for catharsis. Even when Arthur's killing of Gotham's richest inspires others to rise up against the one-per-cent, leading to riots, the movie doesn't cheer on this mindset or try to capitalise on a fashionable anti-elite fervour within our society. Instead, Joker tries to map out Arthur's frustration and impotence so that we understand why he goes berserk — but also why that doesn't make him a magnetic antihero.
Some of the supporting players are less-defined, which is a shame since Zazie Beetz is wasted as Arthur's potential love interest. De Niro is strong as a past-his-prime celebrity who fails to recognise the danger Arthur represents. But the film belongs to Phoenix, who gives us a Joker who, at first, is a troubled but also helpless young man struggling to find connection in a world disinterested in him.
Noticeably gaunt for the role, Phoenix never lets us forget that a monster will soon emerge, but he's such a haunting figure that we lament when that transformation occurs. And although the actor skilfully illuminates Arthur's pre-Joker disintegration, he also proves to be a pretty terrific Joker during the film's final stretches. Superhero fans will inevitably have their favourite version of this unforgettable villain, but it's probably not too controversial to propose that Phoenix's take is the most human — and, as a result, the most tragic.
Production company: Joint Effort
Worldwide distribution: Warner Bros.
Producers: Todd Phillips, Bradley Cooper, Emma Tillinger Koskoff
Screenplay: Todd Phillips & Scott Silver
Production design: Mark Friedberg
Editing: Jeff Groth
Cinematography: Lawrence Sher
Music: Hildur Guðnadóttir
Main cast: Joaquin Phoenix, Robert De Niro, Zazie Beetz, Frances Conroy, Brett Cullen, Glenn Fleshler, Bill Camp, Shea Whigham, Marc Maron