Devashish Makhija's cat-and-mouse thriller is a race across India's troubled interior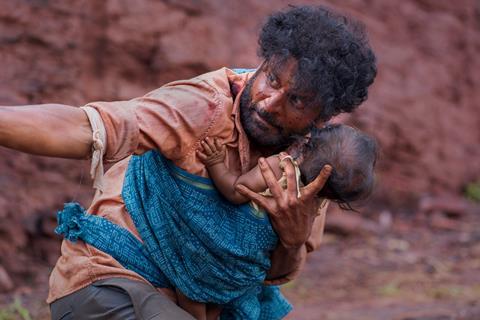 Dir/scr: Devashish Makhija. India. 2023. 134 minutes
Devashish Makhija has a penchant for naming his feature films after their protagonists. His fourth feature Joram harks back to his 2013 debut Oonga, in that both get their titles from the names of the young people in the respective stories, but neither of them can be called children's films. Like Oonga, Joram deals with urgent political, social and economic concerns. Here, however, Makhija designs the film like an edge-of-the-seat revenge drama, a cat-and-mouse chase and a survival thriller all rolled into one, the action and emotion rising to a crescendo in the tension-filled finale.
As he takes the viewer through the twists and turns of his narrative, Makhija never loses sight of bleak truths
Joram premiered in Rotterdam's Big Screen Competition, and is Makhija's third film to be screened at the festival after Ajji (2028) and Bhonsle (2019). Part of the Film Bazaar Recommends section of NFDC Film Bazaar in 2022, it is the director's first collaboration with producer Anupama Bose under his own Makhijafilm banner and is backed by one of India's leading studios, Zee Studios. An extensive festival run seems likely, at the very least.
Dasru (Manoj Bajpayee) is a tribal villager working at a construction site in Mumbai. He is the classic innocent man on the run, on the way back to his village, Jhinpidi in the state of Jharkhand, with three-month-old daughter Joram in his arms, pursued by police officer Ratnakar (Mohammed Zeeshan Ayyub) for a crime he never committed.
Through this story, Makhija explores real world concerns such as the plight of tribes in India's interior; corporate land grabbing, mining and deforestation; the mass displacement of indigenous people; and the rise of Naxalite insurgency against the State. Joram is rooted in the real throughou. There's an authenticity to places — be it the forests of Jharkhand or the concrete jungle of Mumbai — and people, their clothes, language, songs, belief and culture.
As he takes the viewer through the twists and turns of his narrative, Makhija never loses sight of the bleak truths of the colliding worlds of tribals, cops, rebels and politicians, in which exploitation, intimidation and brutality dominate. He is unflinching and non-judgemental in highlighting the violence, but neither does he attempt to hide his own loyalties. He is clearly in sympathy with the innocent, underprivileged tribal natives who have been turned into political pawns, co-opted into the vicious game of greed by the State and preyed upon by corporations.
Some scenes—like Dasru's conversation with fellow tribal commuters in a truck or his monologue with his baby—do stick out like righteous discourses on the pitiable condition of the natives, while raising valid questions about how long their fight for survival can continue. But Makhija's dexterity as a storyteller is evident in the kinetic way in which he shoots the hunt for Dasru by the cops in a moving train. Or when he makes a character pose a simple but subversive question—which uniform is legitimate, the one worn by the cops or that of the Naxalites? Aren't the rebels and law enforcers two sides of the same coin?
Makhija works with a finely tuned ensemble of accomplished actors. In his third collaboration with Makhija, Bajpayee delivers a knockout performance with his skulking presence as Dasru. He is like a caged animal, sporting a hunted look in his eyes and restricted body language. Dasru is running back towards the supposed safety of his land to ensure a secure future for his daughter, but does that refuge truly exist or is it just a mirage? Is he a victim of his own roots?
As cop Ratnakar, similar confined by social hierarchy and the relentless call of duty, Zeeshan Ayyub is all coiled angst, waiting to explode until he witnesses the reality of the disenfranchised of which he had been ignorant. And leaving a strong impression even in small roles are Tannishtha Chatterjee as Dasru's spirited wife Vain and Rajshri Deshpande as Ratnaker's wife, who we only see on a mobile screen during their video chats.
The scene stealer is, however, Smita Tambe as hardened local politician Phulo Karma, nursing a deep wound, ruthless in her quest for retribution, getting a helping hand from her young, loyal and intrepid ally Bidesi (Megha Mathur). This may be a man's world, but she makes a striking impact.
Production company: Zee Studios, Makhijafilm
International sales: Zee Studios, media@zee.com
Producers: Shariq Patel, Ashima Avasthi Chaudhuri, Anupama Bose, Devashish Makhija
Screenplay: Devashish Makhija
Cinematograper: Piyush Puty
Production Design: Shamim Khan
Editing: Abhro Banerjee
Music: Mangesh Dhakde
Main cast: Manoj Bajpayee, Mohammed Zeeshan Ayyub, Smita Tambe, Megha Mathur, Jacky Bhavsar, Aditya Kumar Bhagat, Tannishtha Chatterjee, Rajshri Deshpande