Dir/scr. Eugene Green. France, Belgium, 2016. 115 min.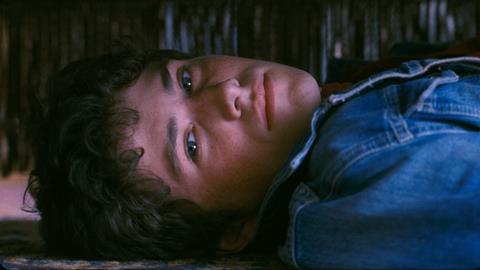 French filmmaker Eugene Green (Pont des Arts, La Sapienza), best known as a stage and film director with a limited but faithful following in more refined circles, will most probably not see his latest film (co-produced by the Dardenne brothers) suddenly cross over to a mass market. Art houses, however, should not miss the chance to programme Joseph's Son (Le Fils de Joseph).
Closer scrutiny shows the plot is an excuse for Green to express his views on parenthood and adolescence and many other things in between, constantly winking at the audience
Open-minded audiences will discover a surprisingly refreshing, smart, intelligent and often entertaining, tongue-in-cheek take on the nature of family bonds, using references from the Old and the New Testament, with modern characters nicely fitting the mythical moulds without suspecting there is anything even remotely symbolical or divine about their existence.
Those familiar with Green's films will have to stumble, once again, through a somewhat stodgy direction, with actors facing the camera and dutifully reciting their dialogue, but once accustomed to the artifice, it evolves into a style of its own.
The texts are delivered in meticulous, perfectly phrased French, a delight to francophone ears but a far cry from anything one might hear in today's Paris. The city itself is lovingly shot with particular attention to such milestones as the Palais Royal and Luxembourg gardens. Obscure pre-classical selections provide the film's only musical soundtrack. Name dropping galore is justified by one character being a tremendously successful but also unbearably arrogant celebrity in the world of arts and letters, and pictorial references, including Caravaggio's Sacrifice of Isaac, round up the message. This might be dismissed as pretentious preciousness but perfectly serves the film's purpose in this case.
The story itself is not immediately related to either the Old or the New Testament, but the film's division into seven chapters bearing titles like "The Sacrifice of Abraham", "The Golden Calf", "The Carpenter" or "The Flight to Egypt" are suggestive enough to leave no doubt about the inspiration.
Vincent (Victor Ezenfis), the 15 year-old son of single mother Marie (Natacha Regnier), is tormented by her refusal to reveal the name of his biological father. Rummaging through her papers he discovers that it is Oscar Pormenor (Mathieu Amalric), a morally abject, pompous publisher who asked Marie, at the time, to get rid of a pregnancy he had no interest in.
Vincent intends to wreck his revenge on Oscar, but in the process, gets to meet Pormenor's brother, Joseph (Fabrizio Rongione) a disinherited prodigal son who hopes to atone for his past sins but is rejected by his rich sibling.
Walking through Paris and engaging in long conversations on art and life, provoked by such incidents as walking into a stunning performance of a Domenico Mazzocchi piece, the lament of a mother on her child's grave, Vincent and Joseph become closer until the younger man brings his older friend home to meet his mother, in the not-so-secret hope of seeing him become the father he never had. Having parents called Maria and Joseph would be just perfect.
Closer scrutiny shows the plot is only an excuse for Green to express his views on parenthood and adolescence and many other things in between, constantly winking at the audience to show that he expects them to share the joke. For instance, the opening sequence shows two teenagers politely torturing (if such a thing is at all possible) a huge rat, but the film's final title assures viewers that the rat, named Gargantua, has survived the shoot without any bodily harm and retired to his mansion on the Riviera.
I"The Golden Calf" episode is a sarcastic parody of the inflated egos of the guests at a book launch, with Maria de Medeiros offering a delightful caricature of a literary critic. And in the "Flight to Egypt". an ass is produced out of nowhere just to keep faith with the legend.
Natacha Regnier, Fabrizio Rongione and Mathieu Amalric, who have already been in a number of Green films, seem perfectly comfortable with the kind of whimsical performance he expects from them while Victor Ezenfis has just the right kind of wounded, rebellious innocence required by his part.
Production company: Coffee and Films
Producers: Francine Jacob, Didier Jacob, Luc Dardenne, Jean-Pierre Dardenne
Sales: Les Films de Losange, b.vincent@filmsdulosange.fr
Cinematography: Raphael O'Byrne
Editing: Valerie Loiseleux
Production design: Paul Rouschop
Music: Emilio de Cavalieri, Adam Michna Z Otradovic, Domenico Mazzocchi
Cast: Victor Ezenfis, Natacha Regnier, Fabrizio Rongione, Mathieu Amalric, Maria de Medeiros, Julia de Gasquet, Jacques Bonnaffe