Iranian police play a never-ending cat-and-mouse game with the country's drug dealers in this gripping crime thriller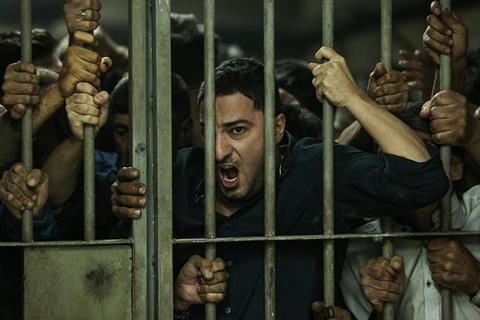 Dir/scr. Saeed Roustaee. Iran. 2019. 135 mins.
A gripping crime thriller that also makes a sharp political statement, Just 6.5 paints a bleak picture of Iranian law enforcement's attempts to deal with the country's flourishing narcotics trade. Writer/director Saeed Roustaee tracks a determined detective's cat-and-mouse battle with a wily drug kingpin, delivering strong performances from his Life+1Day leads Payman Maadi and Navid Mohammadzadeh. Breaking box-office records at home, this gritty, engrossing drama should not only continue to build its festival profile — jumping from Fajr to Venice to Tokyo's competition thus far — but to earn well-deserved wider attention.
Filled with stellar performances and made with technical poise, this is a supremely impressive and involving affair
Intense and uncompromising from the outset, Just 6.5 begins with cops Samad (Maadi) and Hamid (Hooman Kiaie) searching hectically for a low-level dealer. Naturally-lit cinematography from Hooman Behmanesh (A Dragon Arrives!) lingers on doors, gates, walls and narrowing passageways, highlighting the endless array of barriers blocking the police officers' way. The mood is matter-of-fact and, when their first suspect mistakenly thinks he's made a clever getaway, even tinged with darkly farcical notes. Drugs fuel a relentless cycle, the movie posits, and it rarely ends well.
While Roustaee has both edgy and slick home raids up his sleeves, plus another superb chase scene — flushing out homeless addicts living in stacked towers of concrete piping — the bulk of his film eschews action-packed surroundings for police station offices and hallways. They're routine spaces for a routine task; given the sheer volume of spindly detainees packing room after room, apprehending drug users and traffickers is clearly a common occurrence. Nasser Khakzad (Mohammadzadeh) stands out not only because Samad is obsessed with him, believing him to top the local narcotics ladder, but because he's willing to bribe and lie his way to freedom. But Just 6.5 finds a telling way to introduce him, too: nearly dead in a hot tub by his own hand after ingesting 11 packets of pills.
If Just 6.5 wasn't wedded to its procedural approach, chronicling every step in Samad's attempts to bring Nasser to justice, its thematically loaded frames might play as overkill. So might the cut-throat back-and-forth that sees the chief detective straddle the line between good and bad cop with Nasser and his colleagues alike, fingers constantly pointed amongst the police, and multiple officers handcuffed under suspicion of pocketing powder. Nothing oversteps the mark, though, as the film follows the trail from overflowing cells, to murky interrogations, to chilling group hangings. Indeed, as well as tense and tough, everything in Roustaee's remit feels weighty, realistic and revealing.
Even before Samad mentions his domestic troubles (he's remarried his ex to boost his promotion chances), Just 6.5 slides commandingly from Iranian cinema's current mould, interrogating the nation's social conditions and their bureaucratic and legal basis. Of course, this slight whiff of martial disharmony should resonate with viewers, given that Maadi is best known for A Separation. Grappling with a far sterner subject, Just 6.5 hits just as hard as that awarded and applauded hit — and its stars prove just as compelling. There's a slipperiness to both Maadi and Mohammadzadeh (the latter in a breakout role) that places their conflicted characters not as adversaries across the law-and-order divide, but as different pawns trapped by the same flawed system.
Filled with stellar performances (including from fellow Life+1Day alum Parinaz Izadyar) and made with technical poise, this is a supremely impressive and involving affair. Remakes may come calling; however Just 6.5 is so tied to modern-day Iran that setting its story elsewhere would undercut its power. With its title referring to the number of drug-addled citizens within the country's borders — in millions — Roustaee's film is both a harrowing thriller, even at 135 minutes in length, and a fierce lament.
Production company: Boshra Film
International sales: Iranian Independents info@iranianindependents.com
Producer: Seyed Jamal Sadatian
Cinematography: Hooman Behmanesh
Editing: Bahram Dehghani
Production design: Mohsen Nasrollahi
Music: Payman Yazdanian
Cast: Payman Maadi, Navid Mohammadzadeh, Parinaz Izadyar, Farhad Aslani, Hooman Kiaie