A pre-tourist Tenerife comes back to life in this appealing 1990s period drama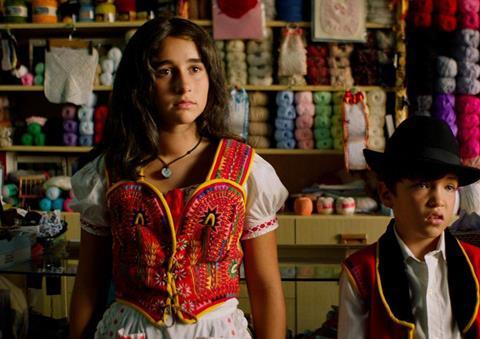 Di/scr: Omar Al Abdul Razzak. Spain/Netherlands. 2023. 106mins
A vibrant exercise in nostalgia that drops the viewer straight into the beating heart of a coastal village of Tenerife in 1993, Killing Crabs is joyous and melancholy, and feels as authentic as a home video. Told through the eyes of a winsome brother/sister team and loosely shaped from the childhood memories of its Canarian director, it tells its story of a society on the verge of great change with a refreshing lack of concern for convention. So intense is its embrace that the viewer emerges at the end with the impression that they've not only seen a film, but had an experience. Showing in Malaga's edgy ZonaZine section, this winning example of the new wave of films emerging from the Spanish regions deserves to find further festival attention.
Razzak does great work in bringing a fresh, engaging note of spontaneity to proceedings
The 1980s and 1990s represented a leap into modernity for much of Spain, but parts of the country didn't feel the benefit – and this area of Tenerife is one of them. Angie (Sigrid Ojel) works in a zoo, dressed up in local costume and posing for snaps with parrots alongside tourist visitors to the island: their increasing presence is a big part of the film's backdrop. Angie, who has a scattergun approach to life, is obsessed with greeting Michael Jackson on his arrival for a concert which actually took place – Jackson's only European date on his later-to-be-cancelled 1993 Dangerous tour, an event which helped to pull Tenerife a little closer to mainland Europe.
Angie's children, goofy eight-year-old Rayco (Augustin Diaz Hernandez) and his big sister Paula (Paula Campos Sanchez), are both utterly winsome, spending their days wandering around doing nothing in particular. Paula and her friends shout abuse at the aeroplanes flying in with their cargo of tourists, or spray anti-tourist graffiti. A local hotel is under threat of demolition, as is the home of Angie's mother, who cannot find any of the documents that prove her ownership. Angie falls in with a Dutch hippie and they all spend a few happy days together, as a sort of ramshackle family unit, before he gets Angie pregnant and effectively disappears.
Rayco is a loveable wild child with a great smile but, after Paula pushes him over and hurts him, he starts to spend time with an old, hard-bitten fisherman, Nino (Nino Hernandez), a surrogate grandfather who raises pigeons and for a short while will raise Rayco as well. (The non-professional who plays Nino actually lives in the dilapidated beach hut which is his home in the film.) After Rayco's fall, the tone of the film darkens.
Anyone watching Killing Crabs would be justified in thinking that it was autobiographical, but – despite the warm glow of happy remembrance that seems to suffuse its every frame and the continual bombardment of delightfully surreal moments – it is not, at least directly. Director Razzak is also a documentary maker, and does great work in bringing a fresh, engaging note of spontaneity to proceedings, operating in that exciting danger zone where everything threatens to collapse into complete chaos without ever quite doing so.
The performances of the two children are a joy. For the first part of the film, they both seem to wear permanent half smiles on their faces, as though life was actually something to be enjoyed – although Rayco's memorable reaction to being pushed over by his sister is the opposite, a raw expression of emotional pain. Its lifelike quality does mean that Killing Crabs works as a kind of documentary record of what things were actually like in this place, at this time. Men are largely useless – the identity of the kids' father is simply never raised and those men who are around are mostly useless drunks. Elsewhere, local customs such as columbicultura – the painting of male pigeons which then set off in pursuit of a female – are celebrated.
Razzak's previous work has also recorded the end of things: his 2013 documentary Paradise, for example, told the story of the final days of Madrid's last porn cinema. As its title suggests, Killing Crabs is also about the end of a way of life, taking place at the point when Tenerife stopped being about the locals and started being about the tourists. But Razzak's wise choice to celebrate the past, rather than mourn its loss, makes his film an uplifting experience, underlined throughout by the use of bright, pulsating colour.
Production companies: Tourmalet Films, IJswater Films
International sales: Filmax filmaxint@filmax.com
Producers: Manuel Arango, Omar al Abdul Razzak
Cinematography: Sara Gallego
Production design: Chary Romero
Editing: Katharina Wartena
Main cast: Paula Campos Sanchez, Agustin Diaz Hernandez, Sigrid Ojel, Nino Hernandez