Dir/scr. Damien Power. Australia, 2016. 89 mins.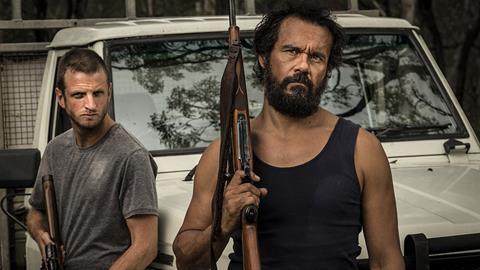 An isolated getaway interrupted by ominous threats, the unease of Australia's vast bushland, remote calm belying untold horrors: all converge in Killing Ground, the debut feature from writer/director Damian Power. This film is clearly cognisant of the crowded roster of hardly-relaxing on-screen holidays it's stepping into, but still strives to claim its own small patch and there's ample confidence guiding this grimy take on the usual camping, stalking and fleeing-filled survivalist formula.
Convincing portrayals aside, this conventional story is further bolstered by Power's sparse approach
That conviction, alongside a slow-building set-up and a penchant for unease, both violent and suspenseful, sees the film bow internationally in Sundance's Midnight lineup (after world premiering at the Melbourne International Film Festival). While enjoying the same fortunes as recent Australian serial killer thrillers Wolf Creek and Snowtown is far from assured, more global genre festival play should follow, plus a local theatrical run and attention on VOD platforms.
Power's debut starts with a road-tripping couple — doctor Ian (Ian Meadows) and his girlfriend Sam (Harriet Dyer) — escaping the city for a peaceful rural vacation. After obtaining directions from a ute-driving resident named German (Aaron Pedersen), they follow his advice and head to nearby scenic, secluded falls. It's a familiar horror movie scenario, down to the foreboding mood, sinister music and the discovery of another tent at their destination. Indeed, Killing Ground never tries to hide the fact that it's not a matter of if something sinister will encroach upon this seeming idyll, but when.
Hours pass and, with no sign of their neighbouring site-dwellers, Ian and Sam begin to think that something isn't quite right. Intertwined, non-linear timelines involving German and his pal Chook (Aaron Glenane), as well as a family of four consisting of Rob (Julian Garner), Margaret (Maya Stange), teenager Em (Tiarnie Coupland) and toddler Ollie (Riley and Liam Parkes), help flesh out their growing fears — and thrust the film towards its inevitable woodland confrontation.
"What happened out there, it stays out there," German snarls to Chook at an early tension-building moment, with Pederson gleefully worlds away from his determined lawman role in both Mystery Road and its follow-up Goldstone, and Glenane proving memorable in turning a seeming acolyte into a distinctive figure.
Enlivening the largely by-the-book narrative, the two antagonists are joined by fellow standouts Dyer and Coupland from the pool of potential victims, with the quartet equally adhering to and toying with standard genre types. It's a testament to their efforts that even the most easily foreseeable twists and turns still enlist the audience's investment.
Knowing how the situation will play out might be part of the predictable package, particularly when the third act morphs happily into a routine high-stakes cat-and-mouse game. Yet caring about the characters' decisions — whether these embrace or trifle with the expected uncouth country-dwelling, disaffected youth and pursued heroine stereotypes — is something that the cast earns.
Convincing portrayals aside, this conventional story is further bolstered by Power's sparse approach. Brutal as many scenes may be, the filmmaker imparts a sense of aesthetic restraint, knowing that waiting is often more unnerving than blustering straight ahead. Editor Katie Flaxman amplifies the pressure inherent in combining the various time periods, though it's The Devil's Candy and Joe Cinque's Consolation cinematographer Simon Chapman who leaves the strongest imprint. The starkly shot Australian landscape once again taunts and terrorises through his lens, even if the film itself can waver in achieving the same feat.
Production company: Campfire Films, Hypergiant Films
Australian distribution: Mushroom Pictures
International Sales: Films Distribution, alexis@filmsdistribution.com
Producers: Joe Weatherstone, Lisa Shaunessy
Cinematographer: Simon Chapman
Editor: Katie Flaxman
Music: Leah Curtis
Production /costume design: Claire Granville
Cast: Aaron Pedersen, Ian Meadows, Harriet Dyer, Aaron Glenane