Dir/sc: Justin Kelly. US, 2016. 92 mins.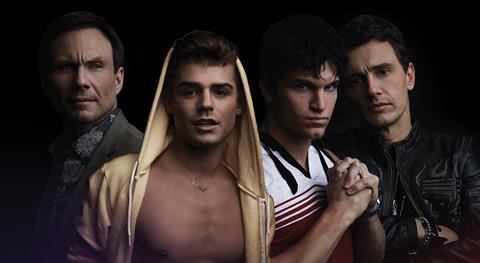 Justin Kelly's King Cobra bears the distinction of being the first optimistic black comedy set in the world of gay porn production that's also extremely classy. Currently screening in the Tribeca festival's Midnight section, it's a movie of such wit and daring that it could transcend its LGBT appeal to become a crossover hit, though it's unlikely to accrue the box office of Boogie Nights (1998), Paul Thomas Anderson's celebrated evocation of late-1970s straight porn filmmaking.
Part of the fun is anticipating when the parallel stories will converge
Despite the softening of cultural attitudes towards porn as a result of its increased consumption via the internet, its creators are still regarded as deviants by moral guardians and their broad constituency. Since King Cobra builds to a murder motivated by greed, Kelly scarcely whitewashes the gay porn industry's murky vibe, but he also refuses to pass judgment on its practitioners' lust, even when their objects of desire are actors who are barely legal.
Kelly deftly accords the milieu a normalizing jauntiness through Tim Kvasnosky's effervescent electronic score and hilariously banal small talk about clothes and food; a mainstream sheen that counters the visual seediness of such Silicone Valley biopics as Rated X (2000) and Wonderland (2003); and the casting of four erstwhile Young Hollywood stars. Standouts as introverted and extroverted gay "daddy" figures respectively, Christian Slater and James Franco – the latter a producer of the project and a driving force behind it – are gamely joined by Alicia Silverstone and Molly Ringwald. Each actress plays a naïve woman blindsided by the realization that she has a close relative working in porn.
This quartet provides excellent support for flamboyant turns as preening gay starlets by lead actor Garrett Clayton and fellow TV tween heartthrob (and acclaimed photographer) Keegan Allen.
King Cobra is Kelly's follow-up to his auspicious debut I Am Michael, which stars Franco as a gay activist who renounces his homosexuality for religious reasons and explores the pressures gay men face in maintaining their identities. Those in the new film have no such worries. Inspired by a 2015 true crime exposé written by Andrew E. Stoner and Peter A. Conway, it follows the wayward progress of Sean Paul Lockhart (Clayton), a Justin Bieber lookalike from San Diego, who is first seen narcissistically auditioning on a couch at the laughably suburban Pennsylvanian home of gay porn entrepreneur Stephen (Slater).
Sean reluctantly becomes the lonely producer's boy-toy and, under his nom de porn Brent Corrigan, is guided to stardom in a series of cheaply-staged hook-up movies released under Stephen's Cobra Video rubric in the mid-2000s. Some of them co-star the grounded Mikey (Spencer Lofranco), who becomes Sean's sometime lover and encourages his ambition to work as a "legit" actor-director (a goal the real Lockhart is achieving).
Kelly rapidly intercuts between Sean and Stephen's fraught collaboration and the relatively harmonious one of Viper Boyz producer Joe (Franco), who is a lapsed Christian, and his co-producer, star, and boyfriend Harlow (Allen), who supplements their income as an escort. Their movies involve much sweaty coupling and sneering, boasting, and porn-speak. The lines between acting and being have blurred for Harlow who, emotionally damaged and dependent on Joe's love, is dangerously unstable.
Part of the fun is anticipating when the parallel stories will converge. The impetus is Sean demanding from Stephen a raise from $1,500 to $10,000 per movie and then being made to clean the toilets. This prompts his cataclysmic revelation that he was underage when Stephen first filmed him – a thorny issue the movie ends up evading.
The tongue-in-cheek sex scenes – bleary digital movie clips recall the good old days of VHS – are tame in comparison with those in Alain Guiraudie's Stranger by the Lake, for example. In this day and age, there's nothing in King Cobra to incense tolerant adult audiences. Filmed from the perpetrator's perspective, the grisly murder is upsetting, however, given that the victim has been portrayed sympathetically. Kelly doesn't exonerate the killer but directs his anger toward a family member whom, it's disclosed, had raped him as a child. Though it mostly palliates its seriousness with humour, King Cobra alights on abuse, supposedly a shaping experience in many porn actors' lives, as it works toward Sean's liberation.
Production companies: Yale Productions, SSS Entertainment, Rabbit Bandini Productions
Contact: Creative Artists Agency filmsales@caa.com
Producers: James Franco, Vince Jolivette, Jordan Yale Levine, Scott Levenson, Shaun Sanghani
Cinematographer: Benjamin Loeb
Editor: Joshua Raymond Lee
Production designer: Anastasia White
Music: Tim Kvasnosky
Main cast: James Franco, Christian Slater, Garrett Clayton, Keegan Allen, Alicia Silverstone, Molly Ringwald, Spencer Lofranco