An actress who has found religion refuses to film an all-important kiss in Ahmed Amer's feature debut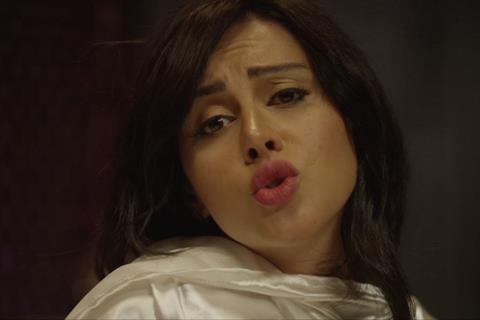 Dir-scr: Ahmed Amer. Egypt. 2017. 88mins
One of the buzz films of the Dubai International Film Festival, Egyptian writer-director Ahmed Amer's feature debut Kiss Me Not (Balash Tbousny) takes a series of comedy pot-shots at increasing prudishness and self-censorship in Egyptian cinema, and delivers an engagingly frothy film about the film business that could well click with local audiences and the Arabic audience, with the presence of award-winning actress Yasmine Raeis a real bonus.
The film features some nice cameos from Egyptian film figures. Raeis (who performs as Yasmine Rais in the film) is a sophisticated and charismatic performer, and her turn as an actress named Fagr who decides to follow a more religious route just as she is about to take part in a climactic scene involving a kiss, gives the film its amusing core.
The fact that the film features some nice cameos from Egyptian film figures; has some nicely staged comedy moments and never takes itself overly seriously add up to a shrewdly mainstream film that sneakily takes some digs at Egyptian culture.
First time filmmaker Tamer (Mohamed Mahran) has reached the final, oh-so, vital scene in his film The Mirage, but Fagr is increasingly unhappy about the bed scene in which she has to kiss her co-star, declaring it is sinful. It turns out she has had a religious vision, and while Tamer insists they wrap the scene as written in an increasingly funny series of failed film takes she manages to avoid the kiss. Just when it looks like the screen kiss is finally happening, a call to prayer interrupts and she runs off the set for good.
As Tamer desperately tries to get Fagr to return for the vital scene, the film has fun tackling all aspects of Egyptian cinema. A friend from film school is shooting a documentary about the kiss in Egyptian cinema and was on set and recording Tamer and his team; Tamer's producer suggests bodydoubles, while real-life directors Khairy Beshara and the late Mohamed Khan (who directed Raeis in 2013 DIFF hit Factory Girl, for which she received the Best Actress award) bicker, compete, offer advice and even suggest an animated ending.
With Fagr now only agreeing to perform in a hijab, Tamer has to get creative to finally finish his film. Kiss Me Not is nicely pacey, which suits its short running time, and while not quite as confrontational and controversial as it might have been it delivers plenty of engaging entertainment. From its animated opening credits sequence through to its satisfying ending, Kiss Me Not is a smartly made production.
Production company: Middle West Films
Sales contact: MAD Solutions, www.mad.film
Producers: Wael Omar, Dina Daouk, Ahmed Amer, Alaa Karkouti, Maher Diab
Cinematography: Hossam Shahine
Editor: Emad Maher
Production designer: Marwa El Kassar
Music: Omar Fadel
Main cast: Yasmine Rais, Sawsan Badr, Mohamed Mahran, Aida Riad, Salwa Mohamed Ali, Sawsan Bady