Horror from India takes some very unlikely turns around a sinister house and a family curse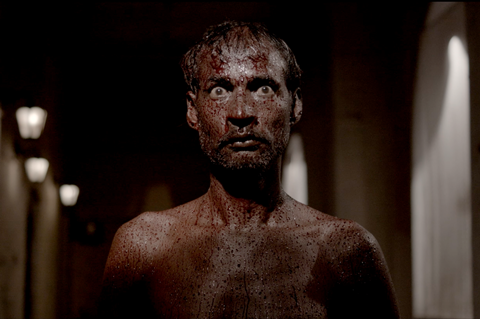 Dir/scr: Sidharth Srinivasan. India/UK. 2019. 96 mins
Indian horror yarn Kriya carries an opening disclaimer to reassure viewers that the characters and events depicted onscreen are entirely fictional. It hardly seems necessary given a scenario that constantly beggars belief.
A very polished production that belies its low-budget and brief shooting schedule.
There is a vague Get Out vibe to the tale of a well-mannered innocent at the mercy of a twisted family. Writer/director Sidharth Srinivasan seasons a familiar set-up with intriguing jabs at patriarchal values. Ultimately, it is some risible dialogue and flat performances that prevent his film from catching fire. There could still be enough here to interest genre fans and festivals following a world premiere at Montreal's Fantasia International Festival.
Amidst the flashing lights and booming bass of a nightclub dance floor, DJ Neel (Noble Luke) catches the eye of Sitara (Navjot Randhawa). She invites him to her family home but as they drive through the pitch black night and the music turns ominous, he really should suspect that something is amiss. Home is a palatial abode with a seemingly endless number of rooms and poorly lit corridors. It is a fantastic location that wouldn't seem out of place in a Hammer horror.
Rather than a night of passion, Neel is confronted by the sight of Sitara's family keeping vigil around her dying father. Sitara's mother Tara Devi (Avantika Averkar) is accompanied by sinister adviser Panditji (Sudhanva Deshpande). The fact that the father is bound, shackled and muzzled doesn't seem to give Neel cause for concern. He is far too polite to mention it and astonishingly compliant throughout. Sitara's younger sister Sara (Kanak Bhardwaj) urges him to get out whilst he can. Where others might run for their lives, he merely tries to make his apologies and half-heartedly suggests, "I think I should leave now". Indeed.
Credibility is clearly an issue here even as we start to gain a better understanding of what might be required of Neel. Hindu custom demands that a son must perform his father's last rites. Sitara's plan is to seduce him into accepting the honour of being chief mourner and participating in a "black funeral, requiring deep magic".
On a technical level, Kriya is a very polished production that belies its low-budget and brief shooting schedule. Production designer Aarzoo Ali has an eye for detail that ranges from the vibrant colours of the wallpaper to the construction of the dying father's muzzle.
There are elements that work well. We gain some hint of the curse that has afflicted the family. Neel's guilty sense of having failed his own parents serves as a plausible explantion for why he is so pliable. Srinivasan takes his time allowing everything to come to the boil. The plot still lacks clarity and the cruder aspects of Neel's blood-spattered visions, the full frontal nudity and Sitara's sexual overtures are jarring. The film's tone never quite gells and asking inexperienced leading man Noble Luketo deliver dialogue like "Don't be so dramatic!" really doesn't help.
Production companies: Reel Illusion Films, Accord Equip, Boom Productions
International sales: Reel Illusion sidharth@reelillusionfilms.com
Producers: Sidharth Srinivasan, Tejash Shah, B. S. Narayanaswamy
Editing: Rwikjit Roy
Cinematography: Lakshman Anand, Karan Thapliyal
Production design: Aarzoo Ali
Music: Jim Williams
Main cast: Navjot Randhawa, Noble Luke, Avantika Akerkar, Kanak Bhardwaj.