Dir. Taneli Mustonen. Finland/Estonia, 2016, 85 mins.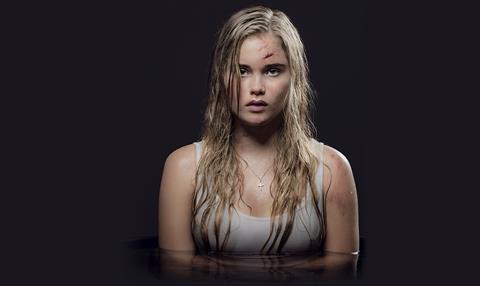 An ingenious, intelligent, playfully nasty film, Lake Bodom draws on five decades' worth of theory about the still-unsolved 1960 case of four teenagers who were killed while camping beside Lake Bodom – a forest area near the city of Espoo in Finland – but is more concerned with horror movie tricks than true crime speculation.
Mustonen delights in pulling the rug out from genre-savvy audiences who think they can see where the film is going
Given horror fans' proven penchant for seeking out takes on familiar material from fresh territories, a Finnish slasher mystery should find international audiences at genre festivals, in modest theatrical runs and as a streaming/VOD/DVD title. And Mustonen, best known at home for the comedic Luokkakokous/Reunion movies, might have potential as a genre auteur if he follows up with similar fare.
The lake-in-the-woods setting and campers-in-peril situation naturally evokes the Friday the 13th brand of American slasher movie, but director Taneli Mustonen – who also co-wrote with Aleksi Hyvarinen – delights in pulling the rug out from genre-savvy audiences with a series of twists that are likely to surprise even audiences who think they can see where the film is going.
In the present day, teenage guys Elias (Mikael Gabriel) and Atte (Santeri Helinheimo Mantyla) dupe girls Ida (Nelly Hirst-Gee) and Nora (Mimosa Willamo) into taking a trip to the murder site by claiming they're going to a cabin party. Actually, the slightly ghoulish murder buff Atte wants to stage a photographic recreation of the 1960 crimes while the tattooed Elias seems to have a more obvious hidden intent. The outgoing Nora is protective of her waiflike friend Ida, who comes from a repressive religious family and is trying to get past a scandal involving nude photos taken without her consent that have supposedly been posted on the internet.
They reach the eerie location after dark and set up camp. Then, after some edgy character interplay and hijinx, a murderer or murderers sets about attacking them … only for a revelation to call everything we've seen and been told into question, and for the two longest-surviving characters to find themselves persecuted on the road while driving through the woods as menace comes at them from a different direction.
Precedents for this sort of ingenuity include Haut Tension/Swithcblade Romance and All the Boys Love Mandy Lane, both of which punched a little above the weight of the average stalk-and-slash film, while a key stretch, involving flashbacks that go deeper into the odd (and very contemporary) internet scandal, involves the sort of skewed, dangerous teenage friendship explored in Peter Jackson's Heavenly Creatures (and also the cause of the trouble in most iterations of the Scream franchise).
Since Mustonen's strategy is to tell a story which seems more ordinary at first than it is, the build-up has to be mounted in high style – with exaggerated performances (Ikka Heiskanen, playing Ida's tyrannical father, could have come from silent melodrama), overhead shots of the tiny car driving through vast dark woods, everyone acting a little off as they nurture their secrets, and borderline tasteless (but ultimately red herring) nods to the unsolved real-life crime (still an active, open case in Finland, where it is as regularly featured in headlines as, say, the Moors Murders in Britain).
After the first big twist, triggered by the innocuous and horribly ironic line 'my heart beats only for you', the film ramps up the suspense in Hitchcockian fashion, including a suspenseful night-dive to retrieve something vital from a weighted corpse. All the characters are shown in a more complicated, engaging light as their own mysteries come to eclipse the true-life Lake Bodom crimes.
Production company: Don Films Oy
International sales: Film Constellation, Fabien@filmconstellation.com
Producer: Aleksi Hyvarinen
Executive producers: Toni Valla, Taneli Mustonen, Joris Van Wijk, Fabien Westerhoff
Screenplay: Taneli Mustonen, Aleksui Hyvarinen
Production design: Anneli Arusaar
Cinematographer: Daniel Lindholm
Editor: Aleksi Raij
Music: Manu Aaltio

Main cast: Nelly Hirst-Gee, Mikael Gabriel, Mimosa Willamo, Santeri Helinheimo, Mantayla