Dir/scr. Yared Zeleke. France, Ethiopia, Germany, Norway, 2015. 94 min.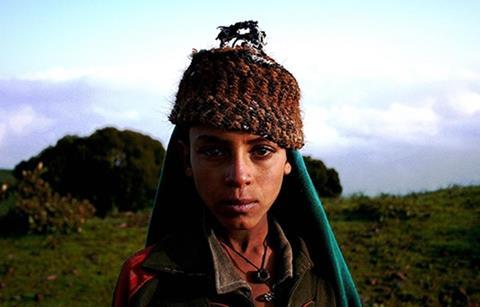 Lamb tells the story of a nine-year old boy left by his father with relatives in the mountains of Ethiopia during the time the country was hit by a terrible drought and resulting famine in the 1980's. It has an undeniable ring of authenticity, due to Ethiopian-born, American-educated director Yared Zeleke's very similar background. A festival certainty, his debut is told through the eyes of the boy, in a simple, straightforward manner, filled with local colour and spectacular landscapes.
Zeleke offers a full scale, detailed portrait of the Ethiopian village at a time when the entire country was starving.
Having just lost his wife and with no drop of rain in sight to save his crops, Abraham (Indris Mohamed), a peasant from Northern Ethiopia, takes his son Ephraim (Rediat Amare) and Chuni, the boy's pet lamb (from which he refuses to be separated), from their native village and deposits them with a distant cousin before he leaves for Addis Abbaba for work.
Estranged from his family in this unwelcoming place, Ephraim wanders with Chuni through the mountains until his tyrannical uncle Solomon (Surafel Teka) decides that he has to earn his keep. But Ephraim is hopelessly inadequate as a farmer and his talent for cooking is considered demeaning for a man. Only his lively grandmother Emama (Welela Assefa), who reigns over the household, makes his life bearable. When Solomon threatens to slaughter Chuni for the forthcoming holiday feast, Ephraim has only resort left: to run away, either to find his father or return to return to the place where he was born.
Far removed from the prettified, exotic look of a National Geographic trip to deep Africa, Zeleke offers a full scale, detailed portrait of the Ethiopian village at a time when the entire country was starving. He also underlines the overwhelming role of women in a purely patriarchal society, from grandmother Emama's uncontestable authority all the way through to Solomon's daughter (Kidist Siyum) who reads too much for her father's taste, rebels against her mother and finally chooses to break away from them all.
The pace occasionally can seem a bit too relaxed and the plot a bit too loose, a classic pitfall for a first film. A denser script might made it even more effective, but helped by Josee Dehaies' handsome cinematography and a handsome cast that seems uniformly unconscious of the camera, Zeleke should have no reason to worry.
Production companies: Gloria Films, Slum Kid Film, Heimat Films
International Sales: Films Distribution (info@filmsdistribution.com)
Producers: Laurent Lavole, Ama Ampadu, Johannes Rexin
Cinematrography: Josee Deshaies
Editing: Veronique Bruque
Production design: Laurence Brenguier
Music: Christophe Chassol
Cast: Rediat Amare, Kidist Siyum, Welela Assefa, Sureafel Teka, Rahel Teshome, Indris Mohamed