Dir: Jeremy Sims. Australia. 2015. 123 mins.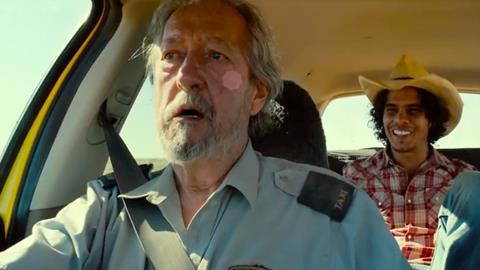 The topic of euthanasia guides Last Cab to Darwin's road trip across Australia, as a terminally ill taxi driver seeks to end his life. Adapting the play of the same name, actor-turned-writer/director Jeremy Sims balances sentiment, wry comedy and debate as he immerses audiences in a sensitive story. Jacki Weaver is the film's biggest name outside its country of origin, where it premiered at the Sydney Film Festival; however a tender turn could see veteran performer Michael Caton follow her into the broader spotlight.
It is easy to see why Sims favours local legend Michael Caton in every scene, and why viewers will as well.
Caton plays the world weary Rex, a country cabbie content in his hometown of Broken Hill, and happiest bickering with his neighbour and lover, Polly (Ningali Lawford), or sharing a drink with his mates. He's the kind of guy who answers "can't complain" when he's asked how he is, though he does have considerable concerns, namely a diagnosis of stomach cancer which has left him with three months to live, at best.
Adamant about avoiding hospitalisation, Rex determines to keep working as the clock counts down, or to try to expedite the process. When he finds out about Darwin doctor Nicole Farmer (Weaver), a right-to-die campaigner in a city that has recently legalised assisted suicide who has a computerised machine that simplifies death down to pressing a button, he drives 3,000 kilometres to secure her help. (The film is set in the 1990s, when euthanasia was briefly legal in the Northern Territory.)
After 2006's Last Train to Freo and Beneath Hill 60 in 2010, Sims opts for more intimate material for his third stint behind the camera. Re-teaming with playwright Reg Cribb, he combines humour and emotion to hone in on Rex's journey, both through the centre of the continent, and in accepting the life he has lived as he approaches his end.
Sims and Cribb litter several encounters along Rex's path, including with Tilly (Mark Coles Smith), a garrulous aspiring footballer struggling with alcohol and responsibility, and Julie (Emma Hamilton), a British nurse moonlighting as a small-town barmaid. Their life-lesson-fuelled subplots highlight the script's reliance upon clichés and convenience, even if Cribb initially took inspiration from a true tale, yet Last Cab to Darwin earns its heartfelt arc. The film's destination might be apparent, but the trek through past regrets, race relations and the central subject itself never feels drawn out.
That voyage, as shot in sequence and lit with warmth by cinematographer Steve Arnold, and moodily scored by musician Ed Kuepper of The Saints fame, encompasses a whirlwind tour of Australian pubs and outback sights certain to entice potential travellers. Broken Hill, the film's initial location, has doubled as a dystopian setting in features such as Wake in Fright and Mad Max 2, and it is the arid landscape that monopolises much of Last Cab to Darwin's frames, though the focus firmly remains on character over aesthetics.
It is easy to see why Sims favours local legend Michael Caton in every scene, and why viewers will as well. His involvement in 1997 comedy The Castle remains his global claim to fame, but here he weaves self-deprecation and resolution into a quietly commanding view on mortality, while the rapport he cultivates with Lawford and Coles Smith gives the film its best scenes.
In contrast, Weaver's character lacks complication, but she does impart a subtle reminder about the complexity of the life and death matters at the feature's core. Last Cab to Darwin may heighten personal drama over the intricacies of euthanasia; however it proves universally relevant as a topical tearjerker.
Production companies: Porkchop Productions and Last Cab Productions
International sales: Films Distribution, fry@filmsdistribution.com
Producers: Greg Duffy, Jeremy Sims, Lisa Duff
Executive Producers: Ned Lander, Edward Simpson, Ian Darling,b Mark Nelson, Andrew Myer, Jon Adgemis, Chris Cuffe, Natasha Cuffe, Prue McLeod, Michael Burton
Screenwriters: Jeremy Sims, Reg Cribb
Cinematography: Steve Arnold
Editor: Marcus D'Arcy
Production design: Clayton Jauncey
Main cast: Michael Caton, Jacki Weaver, Ningali Lawford, Mark Coles Smith, Emma Hamilton.