Jonathan Nossiter enlists a starry cast for his end-of-days misfire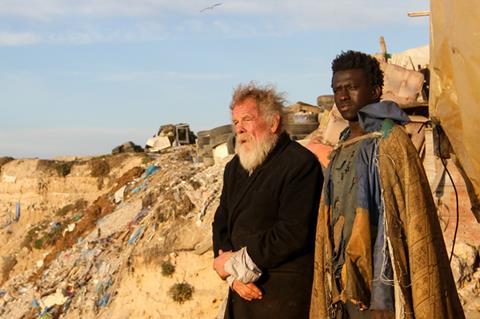 Scr-dir: Jonathan Nossiter. Italy-France-US. 2020. 120mins
The very prototype of an ambitious film project with its heart in the right place and bittersweet if frequently half-baked ideas to burn, Last Words takes too many pratfalls en route to the Bureau of Poetic License. If only a few movies survive eco-catastrophe, this one is a time capsule stuffed with snippets of cinematic gems from Melies to Monty Python and from Preston Sturges to Tarkovski. But Nossiter's first film in six years, a Cannes 2020 selection which premiered in Competition in Deauville, is — put charitably — a well-intentioned mess.
High marks on the topicality front although the film, inspired by a novel by Santiago Amigorena, was years in the making.
The year is 2086 and a nameless black teenager (Kalipha Toura) addresses the audience in an indeterminate language to say that he is the last man on earth and that humans live to tell stories. So far, so good. His story starts two years earlier, when he and his pregnant sister are in a reduced-to-rubble Paris desperate for canned food and bottled water, the only sustenance they've ever known. Completely ignorant but smart enough to know it, they break into a hidden space filled with books and, ahem, reels of celluloid film in rusty cans.
So, metal cans preserve the two things that any film buff will tell you make life possible and worth living: food and cinema. After his sister dies, he decides to walk to the place from which — according to the labels he has taught himself to read —the celluloid treasures she loved holding up to the light came: the Cineteca di Bologna.
A truncated Eiffel Tower slants in the distance as he treks, quickly hitting terrain that looks like war-torn Dresden crossed with Monument Valley. Battered road signs point the way to Italy and skull-and-crossbones posters are glimpsed along the way that say : QUARANTINE — VIRAL EPIDEMIC. High marks on the topicality front although the film, inspired by a novel by Santiago Amigorena, was years in the making.
But when our protagonist arrives, finds a Santa-bearded Nick Nolte, and the two men start exploring the cellar's film collection holding open flames for light, it gets harder to suspend disbelief. Nolte — called Shakespeare — has an ingenious analogue projector powered by bicycle pedaling and hand cranking. After Shakespeare makes a large batch of emulsion, spreads it and manages to punch sprocket holes, the two set out together for Athens where survivors of the planetary debacle might be living.
The duo install their ambulatory cinema for a few hundred ragtag people including a randy Charlotte Rampling, jovial surgeon Stellan Skarsgard, traumatised would-be farmer Alba Rohrwacher and a touching hermaphrodite.
Kalipha Toury, a teenage refugee from Gambia, is appealing as a Candide of the future unsure if there has been or will be a better world.
Last Words points none-too-subtly to what becomes of society when culture, education and health care are neglected: Africa is submerged, the Red Sea is spreading, fertility — human and soil — is kaput.
Today's humans should be familiar with all the film clips incorporated but the director laments that film culture is going the way of AGRIculture (Nossiter, in resistance mode, runs an organic farm in Italy). Consumer culture won't nourish a single person come the Apocalypse, he warns, but the sacred act of storytelling might.
Production Companies: Stemal Entertainment, Rai Cinema, Paprika Films, Les Films D'Ici, Jour2Fete
International Sales: The Party Film Sales, samuel.blanc@thepartysales.com
Producers: Serge Lalou, Laurent Baujard
Screenplay: Nossiter and Santiago Amigorena based on Amigorena's novel "Mes derniers mots"
Production Design: Cristina Bartoletti, Valerio Romano
Editors: David La Porta, Jonathan Nossiter
Cinematography: Clarissa Cappellani
Main cast: Nick Nolte, Kalipha Touray, Charlotte Rampling, Stellan Skarsgard, Alba Rohrwacher, Maryam D'Abo