Dir: Kiran Rao. India. 2010. 100mins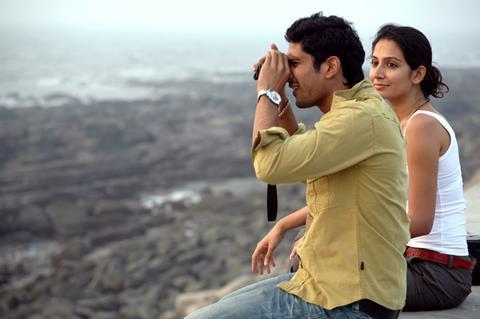 Mumbai Dairies (Dhobi Ghat) is an Indian arthouse film which marks an impressive first feature from Kiran Rao, an AD on Lagaan and Monsoon Wedding who happens to be married to Aamir Khan. A reflective portrait of contemporary Mumbai largely devoid of cliché or overt exoticism, the multiple storyline film presents its characters with a subtlety never seen in traditional Bollywood fare.
Its freewheeling style is engaging and it touches upon social issues with matter-of-factness.
Like Peepli Live, the previous film from Khan's Aamir Khan Productions, the film is a solid addition to the new wave of independent cinema in India and should pique the interest of traditional arthouse buyers, although since Khan himself stars in this film, it will be released on the worldwide Indian circuit at the same time as India early next year to thwart piracy and that schedule might curtail foreign sales. The film had its world premiere at Toronto and should be a solid festival fixture for the next six months.
The loose narrative threads revolve around four characters – a solitary painter called Arun, a female Wall Street banker on sabbatical in India called Shai, a young, handsome laundry boy or dhobi called Munna and a Muslim woman called Yasmin trapped in her arranged marriage in the city.
The film interweaves the stories. Shai sleeps with Arun when she meets him at the opening of his new show but he rejects her the following morning. Ironically Munna cleans clothes for both of them, and he develops a crush on Shai and persuades her to take some headshots of him to further his acting ambitions in return for showing her the real Mumbai.
Meanwhile the perpetually restless Arun moves apartment and in his new home discovers some lost home movie tapes which consist of a recorded letter from the previous tenant Yasmin to her brother. As he watches, he becomes infatuated with her, even while he strikes up a rapport again with Shai.
The film contains a measure of artifice – Arun, for example, doesn't watch Yasmin's tapes at one go, but staggers them as if catering to the structural needs of the film – but as a whole its freewheeling style is engaging and it touches upon social issues – possible romantic relationship between different classes of Indians, the intrusion into life of gangs and the underworld, gender differences – with matter-of-factness.
Khan himself is effectively brooding as the haunted Arun, but the revelation here is Prateik, a star in the making, whose good looks and youth serve him well in the role of Munna. Dogra, a US-born musician making her acting debut, is initially grating, ultimately convincing as Shai, probably the film's largest single role.
The city itself of course is also a key player and the constant noise of traffic, automotive and human and relentless rain infiltrate Roa's narrative.
Lending Mumbai Diaries another layer of western sophistication is Argentina's Gustavo Santaolalla recruited to deliver a melancholy score. The plaintive melodies of his stringed instruments suit the rain-drenched cityscapes to perfection.
Production company: Aamir Khan Productions
Producers: Aamir Khan & Kiran Roa
Executive producer: Belle Shrinivas Rao
Screenplay: Kiran Rao
Director of photography: Tushar Kanti Ray
Production designer: Manisha Khandelwal
Editor: Nishant Radhakrishnan
Music: Gustavo Santaolalla
Main cast: Aamir Khan, Prateik, Monica Dogra, Kriti Malhotra