Cristian Mungiu produced this downbeat debut by Romanian director Ioana Uricaru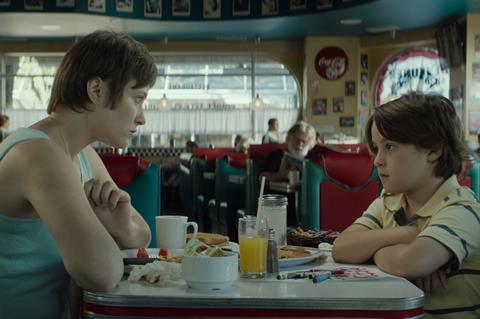 Dir. Director Ioana Uricaru. Romania/Canada/Germany/Sweden 2018. 88 mins
Lemonade is nothing if not topical. Its depressing tale of a Romanian woman's attempt to obtain permanent residence in the US combines the bureaucratic nightmare faced by immigrants worldwide with a grotesque example of the male abuse of power. However, topicality alone doesn't make for convincing drama. And Ioana Uricaru's over-egged and dramatically misfiring debut feature stretches credibility, and patience with its characters, to such a degree as to largely undo its potential.
The dramatic impact of Mara's experience is undermined by the calculated torrent of misfortune heaped upon her
Given the cachet of Romanian cinema, the presence of Cristian Mungiu (one of Uricaru's co-directors on the portmanteau Tales from the Golden Age) as a producer and its subject matter, the film may well attract the attention of distributors; whether that extends to more than a modest arthouse life is doubtful.
Mara (Mălina Manovici) is a nurse and single mother who has come to America on a temporary work visa, without her child. Shortly before that visa expires, she marries Daniel (Dylan Scott Smith), a former patient she's known for just five weeks. The film opens with the newlyweds being interviewed for her green card application.
Having been introduced through his work accident, which has left him in need of dialysis, Mara and Daniel have a marriage that positively reeks of convenience: the middle-aged man gets a young nurse-companion, she the 'better life' in the US that she craves. There appears to be little genuine intimacy or rapport between them. None of that would matter were their relationship not under the microscope. The pair are naively over-confident. Even before her application is concluded, Mara is full steam ahead – arranging the sale of her home in Romania and flying her young son Dragos to the States to join her.
She's inevitably heading for disappointment, though how that manifests is shocking and appalling. Exploiting the holes in her application, Mara's predatory immigration officer, Moji (Steve Bacic), demands sexual favours for a green card. If that wasn't soul-destroying enough, when she informs her husband of the abuse she's just endured, he gives her a verbal and physical beating himself.
"I thought America was different," Mara sighs to a Serbian lawyer (Goran Radakovic) she's engaged to try to prevent Moji's further sexual demands. "America is different," he replies, but it's not Disneyland either."
This may be Uricaru's principal theme: that after years of Romanian cinema highlighting the pervasive corruption in her country, she can report that it's no different in the land of the free. Unfortunately, that's hardly news these days. In the meantime, the dramatic impact of Mara's experience is undermined by the calculated torrent of misfortune heaped upon her, which also includes a confrontation with over-zealous police officers over a misunderstanding involving her child, and setbacks regarding her house sale and Daniel's health insurance, all within the space of a couple of days. The mash-up of a lo-fi naturalistic style with heightened contrivance – there's even a gun – brings to mind Ken Loach at his least persuasive.
If the film were to have an anchor, it would be Mara herself. But the writing and Manovici's uneasy performance have the character veering wildly between single-minded focus and stunning naiveté, nobility and her own, brutal cynicism. Like its heroine, Lemonade is ultimately unconvincing, even exasperating. The reason for its title isn't apparent; it certainly doesn't have any fizz.
Production companies: Mobra Films, Peripheria, 42film, Filmgate Films, Film i Väst
International sales: Pluto Films info@plutofilm.de
Producers: Cristian Mungiu, Yanick Létourneau, Eike Goreczka, Christoph Kukula, Sean Wheelan, Anthony Muir
Screenplay: Ioana Uricaru, Tatiana Ionașcu
Cinematography: Friede Clausz
Production design: Sylvain Lemaitre
Editor: Mircea Olteanu
Music: Oliver Alary
Main cast: Mălina Manovici, Steve Bacic, Dylan Scott Smith, Ruxandra Maniu, Goran Radakovic, Milan Hurduc