Dir : Thomas Bidegain. Fr/Bel. 2015. 114mins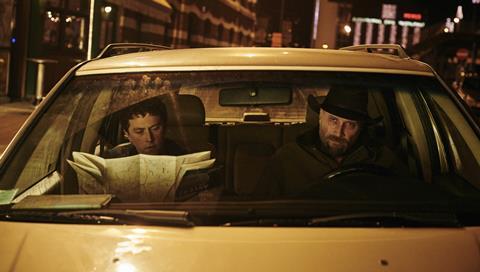 A sweeping yet intimate saga with enough incidents and twists to approximate a season's worth of series binge-viewing, Les Cowboys packs a wallop. The directing debut of screenwriter Thomas Bidegain (Jacques Audiard's A Prophet, Rust and Bone and Cannes Competition title Dheepan) follows the repercussions (over roughly 15 years) after a 16-year-old girl vanishes one autumn night in 1994. With its low-key yet consistently suspenseful look at the ways in which traditional French and Islamo-Arabic culture intersect, this is an exciting debut in every sense of the word.
Bidegain and Noé Debré's screenplay fashions familiar genre elements into an ambitious, original story that's satisfyingly complex
The film's very first, arresting image is of a man seen from the back as he beholds cascading waterfalls across a river in the heart of a forest. This gorgeous, near-mystical prelude somewhere in Eastern France subtly plants the idea that we humans can only control so much of our environment.
There's not a particle of unease when the Balland family suit up in Western gear for an outing to a sort of Americana fair complete with mechanical bulls, lots of American flags and country-Western tunes performed live, including by patriarch Alain (frequent funnyman François Damiens, excellent in serious mode). The setting and gung-ho activities are as charmingly peculiar as if a bunch of ranchers in Colorado decided to wear berets, clasp baguettes and sing Edith Piaf medleys for recreation. Alain dances with his daughter Kelly (Iliana Zabeth), enjoying the festivities with her, his wife and their son, fancifully named Kid.
But when it's time to head home, Kelly is nowhere to be found. Talking to her classmates, Alain learns that Kelly has a boyfriend named Ahmed who is 18. A search of Kelly's bedroom turns up strange looking tracts and notebooks in which Kelly has been practicing words and phrases in, of all things, Arabic.
Ahmed's father, who runs a garage, pronounces these tracts as the kind of religious-themed propaganda "the bearded guys" spout, dismissing such nonsense as of no possible interest to his son, who has also now vanished. Alain starts looking for his daughter and never gives up.
A tight-lipped government official takes an interest in the case. Kelly's taciturn younger brother Kid is a cute cipher when his sister disappears. Years later (now played by Finnegan Oldfield) Kid accompanies his obsessed father, following leads to Belgium, Holland, Yemen and beyond. Alain's once-flourishing professional life and solid marriage have fallen away in his unrelenting quest. It's classic gumshoe work in sometimes scary settings and Alain's only ally is Kid.
Names appear in large letters on screen as we meet — or hear of — various characters. A red bandanna and a pistol left in inexperienced hands for safekeeping advance the search in unconventional ways as the notorious terror attacks in New York, then Madrid, then London, help mark the passing years.
Kid ends up working in the field of humanitarian aid where he crosses paths with "The American," a shady operator played by John C. Reilly complete with horses in tow. (Reilly's screen time is relatively brief but important.)
This wide-ranging story is never difficult to follow. Bidegain and Noé Debré's screenplay fashions familiar genre elements into an ambitious, original story that's satisfyingly complex. By sometimes confounding and sometimes reinforcing expectations, the film posits that ethnic stereotypes are a minefield and that parents of all ideological persuasions love their children.
Production company: Les Productions du Tresor
International sales: Pathé International, sales@patheinternational.com
Producer: Alain Attal
Screenplay: Thomas Bidegain and Noé Debré
Cinematography: Arnaud Potier
Editor: Geraldine Mangenot
Production design: Thierry Rouxel
Music: Raphael
Main cast: François Damiens, Finnegan Oldfield, John C. Reilly, Ellora Torchia, Antonia Campbell-Hughes