An Israeli Arab visiting his hometown finds himself under military seige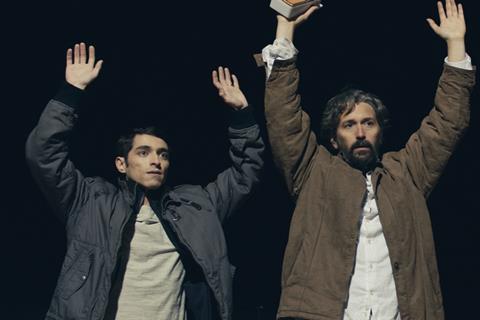 Dir. Eran Kolirin. Israel/France. 2021. 101mins.
The situation of Israel's Arab population is treated with poised satirical acidity in Let It Be Morning, a film mixing social comedy with a touch of absurdism that, though rooted in real-world conflict, has distinct echoes of Buñuel's The Exterminating Angel. This story of a community suddenly under siege is adapted from a book by Palestinian novelist Sayed Kashua, and written and directed by Israeli film-maker Eran Kolirin. Internationally successful with The Band's Visit (2007), Kolirin – following up 2016's Beyond the Mountains and Hills – brings a sharply intelligent deadpan feel to this ensemble comedy-drama, premiering in Un Certain Regard. An involving but emotionally muted dramatic approach should add export appeal to an off-beat take on Middle East tensions.
A slyly provocative drama
The film begins at a wedding party in an Arab village in Israel, where distracted guest Sami (Alex Bakri) – a Palestinian telecom executive, and the groom's older brother – mooches around by himself and sneakily phones his extramarital girlfriend. Later, Sami starts driving back to his home in Jerusalem with his wife Mira (Juna Suleiman) and their son Adam, only to encounter a roadblock. Returning to the village, they discover that phone signals are blocked; soon, electricity is cut off too. Before long, Israeli soldiers have surrounded the village with a wall, and Sami's self-image as a middle-class, socially secure Israeli Arab is dented when his company sacks him for going AWOL.
The apparent reason for the siege is the illegal presence in the village of West Bank Palestinians, one of whom is building a house for Sami's family. That population is looked down upon by Israel's Arabs it turns out, and, in this case, is exploited as cheap labour. The film proposes a highly critical view of the divisions within Arab identity in the Middle East, and it will be interesting to see how Let It Be Morning is viewed – there and elsewhere – given that it is made by an Israeli director adapting a Palestinian author who controversially writes in Hebrew (and who approached Kolirin to direct). All this adds to the resonance of a slyly provocative drama.
While Sami is impassive, glum and not always sympathetic, he has a more vigorous tragi-comic foil in old friend Abed (Ehab Salami), who has always lived in the village and who hopes he can improve his lot – and win back his estranged wife —with a taxi van he has bought. But Abed has a merciless enemy in the shape of village hard man Ashraf; a loan shark and supporter of the local status quo.
Visually and dramatically, Kolirin makes the most of an increasingly claustrophobic setting heated by rising internal tensions; not least within the family. Sami's smug brother-in-law calls for the West Bank people to be handed to the authorities, while patriarch Tarek (Salim Daw) rages that old militant values have been replaced by passive acceptance.
As indicated by the comic image of a cageful of doves that refuse to fly, the malaise of the Palestinians in Israel is, it is suggested, a strangely comfortable demoralisation, although it's clear that there are (in this case, literally) concrete forces keeping them in place. As for the Israeli army, despite the grim decisiveness of its imposition of siege it is comically depicted as itself ineffectual, embodied by a single hesitant soldier with a peace sign on his guitar.
Kolirin and DoP Shai Goldman atmospherically stage some key scenes by candlelight, as night closes in and pairs of characters share confidences. Along with some brasher performances – notably Ehab Elias Salami's bumptious but sympathetic Abed – Alex Bakri makes a compellingly morose Sami, while Suleiman, a film-maker who is also this film's casting director, excels as the discontented but uncrushable Mira. Unconventional musical choices include tracks from The Dead Weather and Sia, letting the characters blow off steam in a pressure cooker situation.
Production companies: Dori Media, Les Films du Poisson
International sales: Match Factory, info@matchfactory.de
Producers: Yoni Paran, Nadav Palti, Tami Mozes Borovitz, Raanan Gershoni, Keren Michael
Screenplay: Eran Kolirin, based on the novel by Sayed Kashua
Cinematography: Shai Goldman
Editors: Arik Lahav-Leibovich, Haim Tabakman
Production design: Amir Yaron
Music: Habib Shehadeh Hanna
Main cast: Alex Bakri, Juna Suleiman, Salim Daw, Ehab Elias Salami