All aboard for Steven Soderbergh's cruise across the Atlantic with Meryl Streep, Candice Bergen and Dianne Wiest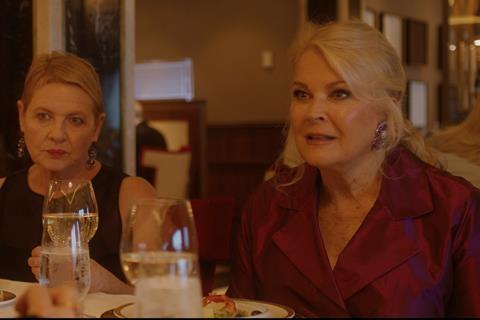 Dir: Steven Soderbergh. US. 2020. 113mins.
Steven Soderbergh's recent filmography has often felt like a series of intriguing doodles, with the Oscar-winning director taking on unfamiliar genres in order to stretch himself. Let Them All Talk isn't wholly successful, but seeing a filmmaker known for his chilly approach tackle a melancholy character study about ageing and friendship is rewarding enough. The story of three septuagenarian women who reunite during a trans-Atlantic crossing after decades apart, this comedy-drama benefits from the interplay between Meryl Streep, Candice Bergen and Dianne Wiest — as well as Soderbergh's free-and-easy exploration of the regrets we face as we grow older.
There's a gentle, lived-in quality to the material that's a departure for Soderbergh
Set for a December 10 release in the US through HBO Max, the charming, cosy Let Them All Talk may appeal more to Streep fans than Soderbergh acolytes. But the film should play well on the small screen, particularly for audiences seeking grown-up, even somewhat old-fashioned, entertainment.
Streep stars as Alice, a celebrated New York novelist who is receiving an honour in England. But since Alice can't fly, her new agent Karen (Gemma Chan) proposes that she take the Queen Mary 2 instead. Alice agrees, on one condition: that she can bring her admiring nephew Tyler (Lucas Hedges) and her college friends Roberta (Bergen) and Susan (Wiest), whom she hasn't seen in 30 years.
As usual serving as his own cinematographer under the pseudonym Peter Andrews, Soderbergh makes good use of the actual Queen Mary 2 for this talky tale. (The end credits thank the crew and passengers of an August 2019 voyage from New York to England.) This antiquated style of transportation lends an air of sophistication that's often wryly at odds with the petty tensions and awkward romantic courting that unfolds. (For delightfully convoluted reasons, Karen sneaks on board and enlists Tyler to spy on his aunt to see if her current manuscript is a long-awaited sequel to her Pulitzer Prize-winning smash. Soon, Karen and Tyler strike up a flirtatious, conspiratorial bond.)
Although Alice insists she wants to catch up with her old chums, she noticeably holds Roberta and Susan at arms' length, informing them that she will be occupied during the day working on her novel. Then at dinner, she pretentiously talks about her work with such self-importance that it feels more like a lecture than a warm reunion. This haughtiness only further angers Roberta, who has her own agenda: she plans to confront Alice about her belief that the Pulitzer book was inspired by Roberta's failing marriage, which she told Alice about in confidence. Meanwhile, Susan just wants to keep the peace, although she too bristles at Alice's pretentiousness, an affectation the writer has picked up since they were all at university together.
Bergen is superb playing a pained divorcee who feels her life has been a disaster — and blames Alice. As for Wiest, she expertly hints at the wild child Susan used to be, but those days are long behind her now, not without some disappointment on her part.
Unsurprisingly, though, the film belongs to Streep, who brings a nuanced take to a self-absorbed, condescending writer who is determined to present the image of a serious artist. (Naturally, she loathes her Pulitzer-winning book, judging her less-commercial work to be far worthier.) Streep balances between making Alice amusingly insufferable and genuinely conflicted — she hasn't seen Roberta and Susan in so long that she's not quite sure how to behave around them. Is she trying to wow them? Or does she really want to make up for lost time?
There's a gentle, lived-in quality to the material that's a departure for Soderbergh, whose films would rarely be called heartfelt. But by his standards, the unhurried Let Them All Talk is an unusually compassionate examination of a group of characters, across different generations, who find themselves at a crossroads. (Hedges perhaps overdoes Tyler's ineffectualness while trying to woo Karen.) And the film can be disarmingly sweet, for example when a hack thriller novelist (Dan Algrant) who's also on board proves to have the soul of a poet — something the judgmental Alice would have never expected.
Alas, as is frequently the case with Soderbergh's recent films, Let Them All Talk ultimately plays more like a jaunty exercise than an inspired passion project, something which is underlined by Thomas Newman's throwback score. The story doesn't add up to much, and a teasing mystery concerning the identity of a periphery character isn't very satisfying. But just like the Queen Mary 2, the storytelling provides a pleasant journey — even if one wished it was all a bit more memorable.
Production companies: Gregory Jacobs Productions, Extension 765
Worldwide distribution: Warner Bros.
Producer: Gregory Jacobs
Screenplay: Deborah Eisenberg
Editing: Mary Ann Bernard
Cinematography: Peter Andrews
Music: Thomas Newman
Main cast: Meryl Streep, Candice Bergen, Gemma Chan, Lucas Hedges, Dianne Wiest